Passo di Foscagno
This pass is the higher of the Foscagno/Eira double summit between Bormio and the high skiing town Livigno. On the south side waits an interesting transition between the greener landscape of Bormio, and the high glacially silted valleys above treeline on the Swiss border. The climb the road has to make, is not as radical as nearby
Stelvio Pass
or
Gavia Pass
. But this is the pass, that crosses the main geographical dividing line in the alps, the division of watersheds. To the south water flows into the Po river, to the north into the Danube.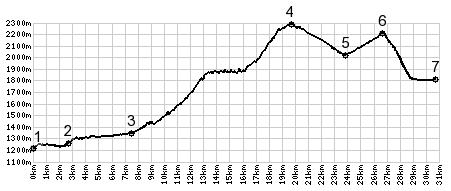 1.(1200m,00.0km)START-END EAST:Bormio
2.(1264m,02.7km)Premadio
3.(1350m,07.4km)Valdidentro
4.(2291m,19.5km)Passo Foscagno
5.(2020m,23.5km)low point between the two passes
6.(2208m,26.3km)Passo d'Eira
7.(1820m,30.3km)START-END WEST: low point on lake,just north of Livigno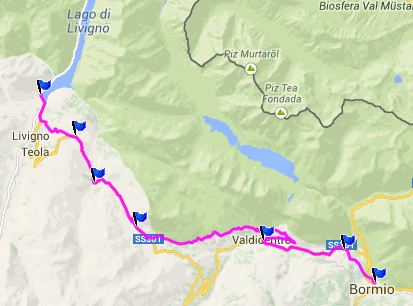 Approaches

From South. The profile of the valley below Bormio is included in the Stilfserjoch and Umbrail Pass pages.

Leaving Bomio, Stelvio bound bikers stay right and get ready for the first climbing heart attack, while Foscagno bound bikers stay left and roll downhill a small distance, into the first of several interesting valley floor villages. Then the valley curves upwards, and at the same time the road traverse up the curving slopes to collect two villages. I want to compare to a circular staircase, with surprises waiting around the next turn. Each village is preceded by the view of its church tower, as always in the picture perfect location. The peaks in all directions are on the Swiss border, except when you back and look where you came from. There you can make out the road climbing Stelvio Pass.

Only a few switchbacks connect long ramps on this wide road, and so it traverses a lot of space. Past the last village Arroga, the road seems to head for a gap ahead. But that's an opticall illusion. The road has diffferent plans. It enters three long galleries. These are located on a comparatively shallow slope, when you compare them to the galleries on Stelvio Pass for example. But they have a panoramic view of peaks to the south.

No switchbacks are required to reach this gap above treeline and the big hotel on top. There is a customs station on top, even though both sides of the pass are firmly in Italy.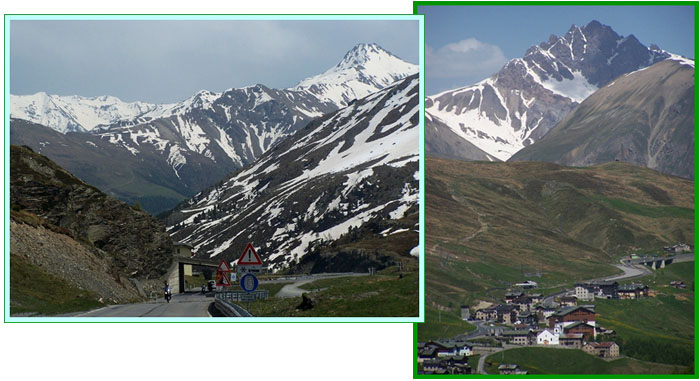 From North. (described downwards) A short descent leads to a low point in a high valley above treeline, before the road starts climbing agian to Passo d'Eira. This valley between the two passes does have a road exit, that leads down to the large damned lake east of of Livigno, Lago Di Gallo. A canyon leads there, but no road fits there. Continuing on pavement, the path obove the trees is lined with small tourist businesses, monumental houses, ski related businesses, that all seem to stack up on top of one another, when seen in foreshortened persepective during the descent. The 3000 meter peaks behind the pass are actually north of the valley, that Livigno sits in.

Dayride with this point as highest summit:

Passo Di Foscagno , Passo D'Eira : Bormio <> Isolaccia <> Passo Di Foscagno <> Passo D'Eira <> Livigno <> turnaround point several km north of Livigno on Lago di Gallo, including detours in Bormio: 59.1miles with 6665ft of climbing in 5:51hrs (Garmin etrex30, m4:14.6.9)


The last day with different start and end points was: Passo Gavia