Passo d'Eira


Even though this pass is over 2000 meters high, both its approaches are actually very small. There are even higher passes in all directions. In no way does this limit the scenery visible from this high area. It just makes it a little easier to get to. Any complaints ?

the elevation profile and map for this pass are included on the Passo Foscagno page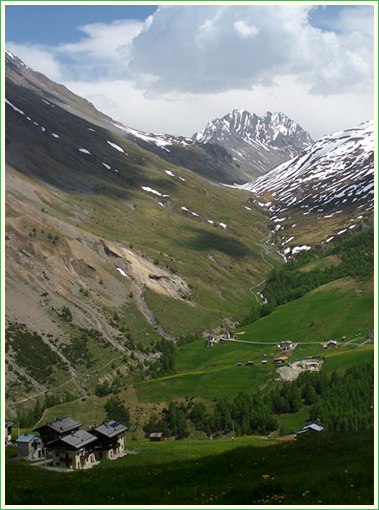 Approaches

From North. Livigno is a topographical puzzle. Restricting yourself to roads, in all directions you have to go uphill over a pass to get there. This road to Passo d'Eira is one of them. But signs only reference the next pass after that, the higher Passo Di Foscagno.

The short, very steep climb goes under a ski run, then over one. Below Livigno and its bike and ski related businesses stretch in a long line along the length of the bare valley. You never see the actual end of the village. On the exact top of the pass, pedestrians have the right of way to cross the road on a walkway, so that they can get from the skiing side of the road into the bar/albergo on the other.

From South. (described downwards) Actually there is an entire collection of ski related businesses, stores and albergos up here, and all the buildings look completely in place, without any signs of skiing glitz extravaganza of other ski resorts, at least in summer. For all I know these buildings have been here forever. From this vantage point two high treeless valleys, with monumental mountains as background radiate toward the south. One of them is the ride ahead, a continuation up Passo di Foscagno

Below another small settlement points the way to a trail down to Lago di Gallo. But there is no road exit on this side down the canyon. Instead, staying on pavement you have to cross Passo Di Foscagno. At the low point the road traverses a long gallery tunnel, which gives a hint at the snow depths in this area.

A Dayride with this point as intermediate summit is on the page: Passo Di Foscagno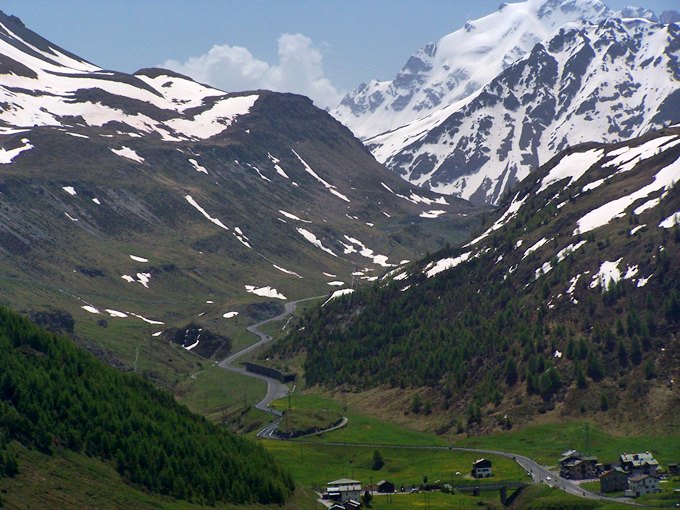 the lower approach to Passo di Foscagno, seen from the approach to Col d'Eira