Col de la Forclaz
There are three passes with this name, that even I know, which means there are most likely even more than that. This particular one is memorable because of a very steep southern approach, nice views of Lac D'Annecy on the northern approach, and in my case a very rainy, cold day in July.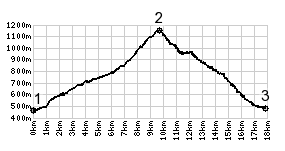 1.(450m,km00.0) START-END NORTH: south of Talloires, on shore of Lac D'Annecy
2.(1157m,km09.7)TOP: Col de la Forclaz
3.(480m,17.6km)START-END SOUTH: jct D402-D1508 and Piste Cyclabile along Lac d'Annecy, north of Giez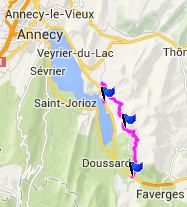 Approaches

From North. On the north end of Menthon Saint Mentho, it's time to leave the narrow bike route around Lac d'Annecy and follow the sign for Col de la Forclaz. A busy road without shoulder climbs in straight ramps between luxury homes, with brick walls as thick as Disneyland styrofoam castle walls in the US.

A sign advises motorists to leave 1.5m between them and a cyclist, and all the ones I met, did. Regularly occurring views of the lake measure the progress upwards. The road retreats from the lake for a while, only to return to it, with a view from straight above. The top has many buildings and a tourist office, restaurant, bar etc, that are suspicious of some major tourist attraction nearby. But it just seems to be the junction with a one way road up to Les Prets Ronds (1211m) and onwards to a trail up Col de l'Aulp.

From South. (described downwards). The road goes through the village Montmin, which to my eyes has a Swiss appearance: elaborate houses with detail oriented wood construction and a solid appearance - the opposite of a stage set - something that is meant to remain after the movie is over. From the profile it looks like the steep section is mostly on the northern side. The steep grades may be less sustained on this side. But I remember them more: the sign says 13%. But there are no views of the lake. By now you are already south of it in Montmin. At the bottom waits an immaculately paved "piste cyclabile" in both directions. It looks that like it must be an old railbed, because it is entirely separate from the road.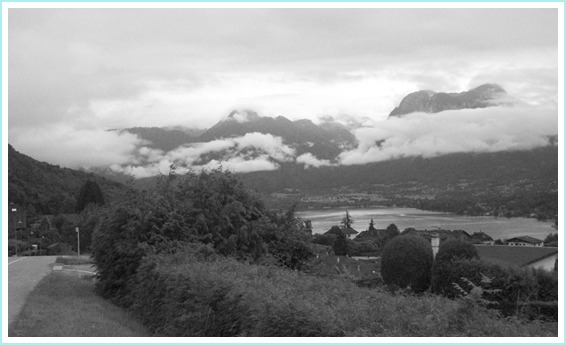 Dayride with this point as highest summit:

Col de la Forclaz , additional out and back: Meythet > Annecy > Annecy Le Viex > Veyrier du Lac <> short out and back in direction Col de Bluffy >> Menthon Saint Bernard > Montmin > Piste Ciclabile on east side of lake north > Annecy > back to starting point in Meythet with many miles of detours to take advantage of time when it was not raining or only raining slightly: 46.4miles with 2950ft of climbing in 4:25hrs (VDO MC1.0 m4:14.7.11)
Notes: A rainy and amazingly cold day in July, after 3 days of rain.


the last day with different start and end points on this tour is on page: D207 Aiguebelle - St Pierre de Belleville(sh)