D32 Utelle s(u)


It is not very often, that there is a medieval town square - near, or right on top of a summit. D32 actually has two spots that fit this description, and this one is the higher of the two. The description continues from The
D32 La Tour summit(u)

1.(00.0km,214m) Vars Gorge, tunnel entrance on D
2.(00.3km,217m) START-STOP WEST: profile turns left up Valley of the Tinee
3.(05.3km,244m) profile turns right up to La Tour
4.(11.5km,595m) D32 La Tour s(u)
5.(14.7km,375m) low point between D32 La Tour s(u) and D32 Utelle s(u)
6.(23.8km,878m) TOP: D32 Utelle s(u) at turnoff to out and back road to Crete de la Madone
7.(24.8km,795m) western turnoff into Utelle
8.(33.2km,281m) START-STOP EAST ALT: profile turns right down Vesubie Gorge
9.(43.8km,142m) START-STOP EAST: jct Vesubie Gorge - Vars Gorge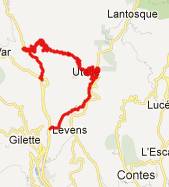 Approaches
From West. There is no control point in google maps at the top of la Tour. So the actual elevation may be a little higher than indicated on the profile. After climbing to the medieval town of La Tour, D32 descends again and then climbs on a road with quite a few rocks on them, to the even more precariously located town of Utelle. The road is quite rough, has many small ups and downs as well as rock remaining from slides. It is also lined with abandoned cars now and then. There are two tunnels near the top. An out and back to the top of the mountains adds several hundred feet more elevation gain. But the view from the terrace parking lot outside the town is already pretty stunning. Once in the town square, you would never guess you are on top of a cliff. There should be a gite a little lower, but it either was closed or full when I passed through here. In any case I had to continue down.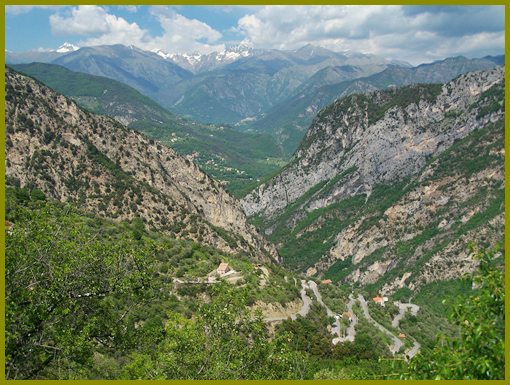 Valley of the Vesubie, while descending east side of Utelle

From East. Quick descend to D2565 and the Gorges de la Vesubie. The road clinging to the cliffs below to the south is one approach to the D19 Levens shoulder summit. Another great view has about eight switchbacks of this descend in the foreground with the main range of the Mercantour national park behind it.

| | |
| --- | --- |
| | |
| Utelle from summit | Utelle townsquare |





D19 Levens s(u) from eastern approach
to Utelle s(u)

lower western approach to Utelle
A day on an Extended Tour:
(<D32 La Tour s(u)|Col de Turini>)
D32 Utelle s(u) , D32 La Tour s(u) , D26 Tournefort s(u): Entrevaux > N202 east > D26 Tournefort s(u) > D32 La Tour s(u) > D32 Utelle s(u) > D2565 north > Lantosque: 55.2miles with 5290ft of climbing in 5:37 hours on a fully loaded mountain bike (m4:12.5.24).

A dayride from the ending point of that day, Lantosque, is on page: Col St Martin

back to Cycling Passes in Europe