Col St Martin
Mountain passes, running in an east-westerly direction, connect all the high major canyon drainages north of Nice. Col St Martin connects the Vesubie Canyon with the Valley of the Tinee. It is interesting to compare Col St Martin with the
D32 Utelle summit
, which also crosses between these two drainages. But the D32 summit does this further down stream, just before they both merge into the Vars Valley. Of course Col St Martin is a higher climb. Like the D32 Utelle summit, the area below Col St Martin is rich in medieval clustered towns. But the first impression of Col St Martin involves ski areas and modern condo high rises.

01.(00.0km,142m) START-END EAST ALT: jct D2565 - D6102, la Riveiere
02.(09.8km,302m) road to D19 Levens (sh) leaves on right
03.(10.3km,281m) road to D32 Utelle s(u) leaves on left
04.(18.3km,447m) road to Col de la Porte leaves on right
05.(19.0km,460m) Lantosque
06.(21.0km,502m) road to Col Turini leaves on right
07.(33.2km,956m) START-END EAST: Saint Martin Vesubie
08.(35.9km,1125m) road to Col Salese leaves on right
09.(41.5km,1500m) TOP: Col St Martin
10.(44.4km,1295m) turnoff to St Dalmas
11.(47.5km,1107m) La Roche
12.(57.4km,446m) START-END WEST: profile turns left, down valley of the Tinee
13.(72.2km,247.5m) road to D32 La Tour s(u) leaves on left
14.(77.2km,190m) START-END WEST ALT: Tinee flows into Var at jct: D2205 - N202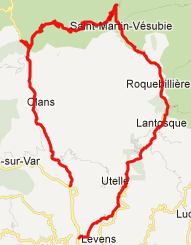 Approaches
From East. The profile includes all of the Canyon de Vesubie as approach. It starts getting a little steeper somewhere around Lantosque. Other sources consider the approach of the pass to start in St Martin Vesubie. Once the road starts climbing past St Martin, three peaks over 3000 meters are in good view. They are Cime de Gelas, Mt Clapier 3045m and Cima de Brocan 3045m. When the road leads through the short tunnel the views disappear. On top there is a rondell, several high rise condo buildings, at least one restaurant, ski shop and lifts, a pony ride business and no views.
From West. (described downwards) This side is the quieter side of the two. The landscape has a more pastoral, soothing effect too. The many different parts of Valdeblore contain many hotels and several gites. But I didn't check how open they were. I also included the entire approach of the Tinee valley in the profile. This side is marked with signs directed towards cyclists, marking "current altitude", "remaining altitude to be climbed", and "average remaining slope" statistics. The eastern side is not.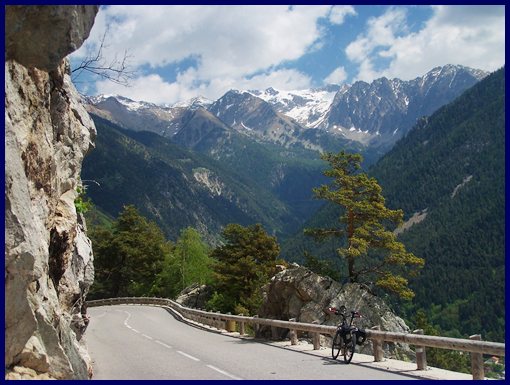 the eastern approach to Col St Martin with 3000 meter peaks in the background


Dayride:


Col St Martin x2:
out and back ride from Lantosque <> St Martin in Vesubie <> Col St Martin <> turnaround point at 750m, maybe a km below turnoff to Rimples
The last summit point with different start and end points on this
Extended Tour
is:
D32 Utelle s(u)
---
towns along the approaches to Col St Martin:
left top and bottom: Lantosque
right top: St Martin Vesubie
right bottom: Valdeblore

back to Cycling Passes in Europe