D27 - D427 Rourebel(sh)
This point is on a Bucles d'Azur bicycle route. It is located at the intersection between D17 and D27, a short distance below Rourebel, on a shoulder of the D27 Ascros summit. Col de Saint Raphael is a shoulder point on the northern approach.


1.(00.0km,622m) START-END SOUTH: jct D10 - D427, along Vallon des Molans
2.(03.0km,690m) route turns right onto D427
3.(04.5km,760m) Saint Antonin
4.(08.6km,972m) jct D427 - D27; profile turns left
5.(08.7km,987m) TOP: point of highest altitude
6.(14.3km,876m) profile turns right onto D2211A at Col St Raphael
7.(22.3km,406m) START-END NORTH: Puget - Theniers: bridge across Var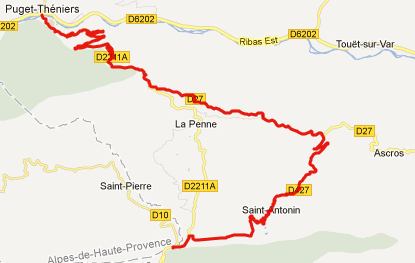 Approaches
From South. The starting point of the profile connects with the Col de Trebuches profile. Starting at the southern end of that profile, then turning right onto an even smaller, quieter forested road, a sign warns that picking mushrooms is strictly forbidden in these local forests. I'm sure somebody picks them though.

The road curves up a the crest of an inclined bread loaf shaped mountain, collecting loosely spaced villages along the way. One of them is Saint Antonin. Its handful of quiet streets are bordered by balconies with far views onto the mountains of the Mercantour Park, as well as the lower mountains of the Haute Provence in the opposite direction. But the road just keeps on hopping from village to village, that loosely crest the broad ridge, leading to the summit. The highest point is at the intersection with D17. Turning right here leads to a higher unnamed summit, located in the town of Acros.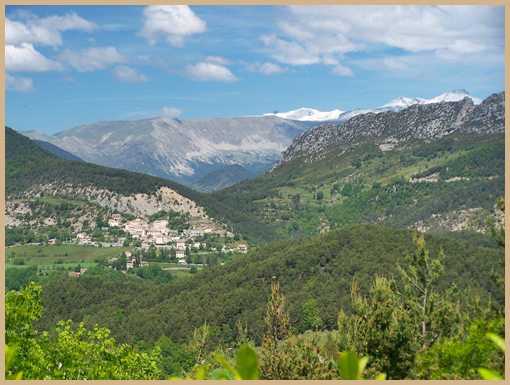 telephoto view to Col St Raphael from St Antonin
From North.
But the profile turns left and descends to Col St Raphael. The town of the same name on the south side of Col St Raphael can be seen from far above before reaching this pass. From here a curvy descent leads to Puget Thenieres, with the mountains of Mercantour Park now a lot closer. Arriving at the endpoint of the profile, the road crosses the Vars on the easily recognizable hanging bridge. Up or down valley, from here on the traffic is a lot heavier. But you can also go straight on the other side of the bridge and cross the partially unpaved
Col St Leger
.
top left: view north form Saint Antonin, top right: descending Col St Raphael to Puget Theniers
bottom left: end of profile in Puget Theniers; bottom right; looking back onto route from Saint Antonin
Dayride:

D17-D27 Rourebel(sh) , Col de Trebuches , Col St Leger, additional out and back:
Entrevaux > up D610/710 > Col de Trebuches > la Rochette > St Piere > St Antonin > D17-D27 la Penne(sh) <> out and back to Ascros > col de St Raphael(shp) > Puget Theniers > Col St Leger > down D1202 > back to starting point on left side of Var on a trail from supermarket: 62.4miles with 6880ft of climbing in 6:20hours; (VDO MC1.0 m4:12.5.23)
The last summit point with different start and end points on this
Extended Tour
is
Col de Felines
back to Cycling Passes in Europe