Clis Castle(sh)

Picture a city inside of a large natural amphiteater - that's Split The top of this bowl is lined with a modern four lane highway, built to handle post communist modernity - and all of its traffic. But there are several small roads that lead up to the rim of this big scenic cup, these two amongst them. Although - finding and exploring this area for the first time will probably involve more traffic than subsequent, more informed ventures. The upper parts of this bowl consists are an amazing mix of small alleys, below an old castle perched on top of a mountain. ... Kind of. These are several shoulder summits possible in this area. The real actual highest points, the road summits - are just a bit higher on an rolling plain. But up there it's so comparatively flat. So it 's hard to tell exactly where they are.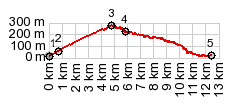 1.START-END EAST:jct 6253-67075, Solin
2.profile leaves main road in favor of 67074
3.TOP, 280m, turnoff just before reaching castle entrance
4.profile takes unsgined turnoff from 6253
5.START-ENE WEST: low point on 67075 in Solin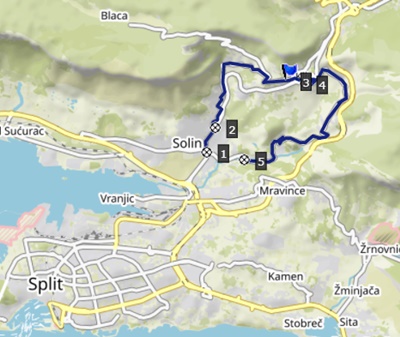 Approaches

From West. following the signs for Clis or Sinj you are lead up busy 6253. But looking for a side road to the north, you can find this side road up on a terrace, that goes directly to the castle. If staying on busy 6253 you go through a tunnel and then have to backtrack to the castle. The side road to the north is then an alternate approach. The highest point is just under the entrance path to the castle. But there are many other village roads that allow bypassing this point and substitute a slightly lower summit point. The nicest one is the junction of Varoska Cesta and Petra Cruzica. For this option, a narrow paved path leads down through the village back to the main road. Best to just explore and figure it out yourself.

From East. (described downwards). The critical part to roughly going down this way (instead of one of the approaches above) is to turn off the main road 6253 at an unsigned intersection. There is no sign, except for one that forbids a left turn onto it, when coming down 6253. This is exactly what you have to do - and the sign forgidding it, is best way to recognize that you have to do it.

It soon becomes clear that this is actually the signed road bike route 100, even if further up there is no indication of this. The signs along the route down here are still very confusing. After crossing a marvelous viaduct in the midst of other bridges of wildly different types, a sign clearly shows to turn off left. The route swoops down under the just crossed viaduct, in order to dead end in a neighborhood with death defying dropoffs beyond the porches, crowded with playing children and cars attempting to turn 180 degrees, as if on a turntable for locomotives.

The profile does not take this erroneous turnoff, but just goes straight on this scenic traverse above Split with ever improving views (at least if it's late because of the light) onto the castle and its village.

cLiCk on image , arrows , or thumbnails to advance slideshow
Dayride with this point as highest summit
COMPLETELY PAVED
( <
D106 Pag - Novalja s(u)
|
6142 Tugare(sh)
> )
Clis Castle(sh) , Telegrin s(u):
Strobrec > Split with detours along coast > Sustipan > Telegrin s(u) > 639 clockwise along coast or parallel > Solin > D8 west > Kastela > 6137 east > Solin > 6253 north > Klis Castle(sh) > 67074 west > 6253 north again for short distance > down 67075 with detours > Split with many unsigned dead end detours in industrial areas > back to starting point in Strobrec: 56.0miles with 4480ft of climbing in 5:44hrs (garmin etrex30 r5:21.11.11)