Telegrin/ Park Suma Marjan s(u)

Okay - so this summit is extremely small, just barely within the cutoff points of being able to include it. But I don't just include any climb this small - just the ones that are as pleasant as this, scenically or bike-wise. As far as I am concerned the two best, most beautiful points in the entire Split area are on the southern approach of this small summit.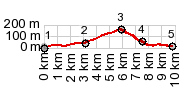 1.START-END SOUTH:south end of the marina and near entrance of Sustipan Park/forest
2.route turns right up gated road
3.TOP. 150m, Suma Marjan s(u)
4.route crosses gate back into city streets
5.START-END NORTH:low point on north side of Split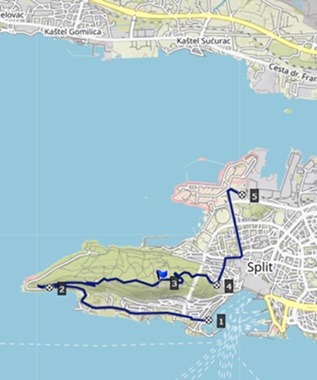 Approaches

From South. ... One is at the bottom, the other at the top. After leaving the promenade along the Split harbor, and continuing to hug the coast line, the route passes a - at first rather nondescript looking park: Sustipan. This is not only a prime vantage point onto the city but also a prime peace of real estate for everybody who is anybody in this area - since Roman times.

But since this page is about bicycling I won't go into it. Besides - I am not qualified. Following the coast further, the road takes on an eerie calmness, that is downright scary for Croatia. The reason soon becomes clear. A barricade keeps out cars from climbing up the couple of switchbacks to the top of Park Suma Marjan. Walkers and cyclysts are welcome. On top is a cross, sometimes groups of school children picking berries, and maybe even better views than from Sustipan. In my case however the haziness had increased a lot, a common occurence.

From North. (described downwards). To stay on pavement you take the left option before reaching the cross. The unpaved trail to the right of the cross will also do the trick. On the way down another park invites to stop and compare the somewhat tamed, somewhat unwieldy landscape. It reminded me of grand British colonial parks in far parts of an empire, that had become to large and unwieldy to care for, even if the history here is very different. Back at the bottom the road merges into heavy traffic.

cLiCk on image , arrows , or thumbnails to advance slideshow
A Dayride with this point as intermediate summit is on page:
Clis Castle(sh)