D106 Pag - Novalja s(u) -1

This summit is so small - yet it looks so big. It has just a little more than 500ft elevation gain on each side, just barely beyond the cutoff I set for myself for being able to include it. But it is the most impressive mountain around, and there is no bigger workout in a day's ride in all directions. The views do contain some much higher mountains - the Velebit Range, not to mention a thousand variations of Mediterranean sea views with islands and cliffs as foreground.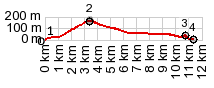 1.START-END EAST:D106 leaves bridge in harbor area in Pag
2.TOP, 530ft~160m
3.low point on D106 at turnoff to Simuni
4.START-END WEST:harbor in Simuni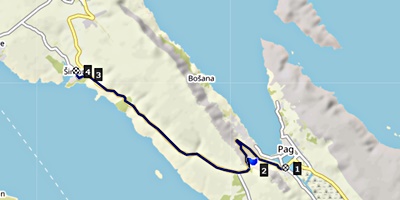 Approaches

From North. Approaching Pag on D106 from direction Zadar you can see this bare ridge for a long time before reaching it, framed by tall marine grasses. It looks bigger than it actually is. Only a single switchback is requred for the short climb. But the view is spectacular during any time of the day, especially the dessert rock formations on the north end of Rab with the Velebit Range behind it.

From South. This is the gentler, greener side of the island. In my case the light always comes from the ocean and the low gentle plates of islands become fuzzy discs in the glittering haze. On an out and back day-ride, there are various options for sea side turnarounds. The obvious one on the main road is shown in the profile. Simuni is a taste of what is to come further north. The developments here are still relatively tame, compared to the north end of Novalja, which has been turned into a concrete vacation house jungle.

Past this summit D108 starts climbing again to a second summit of this sort (D106 Pag-Novalja s(u)2 ). It gets the road back to the Velebit viewshed. Again - great views on the north side.

cLiCk on image , arrows , or thumbnails to advance slideshow
Dayride with this point as highest summit
PARTIALLY UNPAVED / PAVED
( <
63058 Slivnica s(u)
|
Clis Castle(sh)
> )
D106 Pag - Novalja s(u)-1 x2. D106 Pag - Novalja s(u)-2 :
Rtina-Mitici > Dinjska > Pag > D106 Pag - Novalja s(u) -1, D106 Pag - Novalja s(u) -2 << turnaround point, develpments north of Novalja > D106 east <> out and back to a beach on the north side >> road towards Mandre > 63004 east > Simuni > D106 Pag - Novalja s(u) -1 > Pag <> out and back to end of road north of Pag << Pag with sightseeing detour > Dinjska > back to starting point in Rtina-Mitici: 75.6miles with 4239ft of climbing in 6:30hrs (garmin etrexd30 r5:21.10.29)
Notes: the only unpaved section is the out and back north of Rab. Originally I had planned to go further to the end of the island, but the concrete jungle developments on the north side of Novalja would not end.