6142 Tugare(sh)

Finding good cycling routes, while visiting cities, often takes a little longer, because of the need to get away from traffic. This is a great cycling route between Split and Omis. It follows a high valley with a single ridge separating it from the Adriatic Sea. But the high point of this trip is surely the out and back segment to a small 10th century church up on that ridge.


1.START-END EAST:jct 6142 - D70, just west of Omis
2.profile turns stays stright onto smaller road to Tugare
3.TOP, 310m - Tugare and turnoff of out and back summi
4.turnoff onto 6163 on right
5.START-END WEST:jct 6142 - D8, Stobrec, east of Split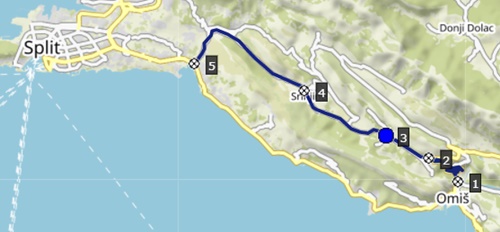 Approaches

From East. After turning off onto D70 in Omis, heading inland and up the mightly limestone cliffs it was hard to believe the contrast in traffic. After expereincing this contrast, it really does seem like all Croation driving is being done on the coastal road. In a traffic sense this is a linear, one-dimensional country. In contrast - the traffic up here consists of a few stray random vehicles, that can be explained as being within the margin of error for 0. What a difference up here, and what a relief. Add to that the fact that the road is just as wide and actually in better condition than parts of the coastal road - at least for a while.

The profile follows the first turnoff from D70, signed as going to Split. The road now follows a small linear valley with the Mediterranean hidden behind a ridge. A turnoff at the top can solve that visibility problem. This two-way top is located at the main intersection in the small village Tugare.
From West. (described downwards) This side is gentler. A speedy decent on a patched up road through patched up villages leads to the Strobrec on the outskirts of Split. A large variety of construction debris lines the road.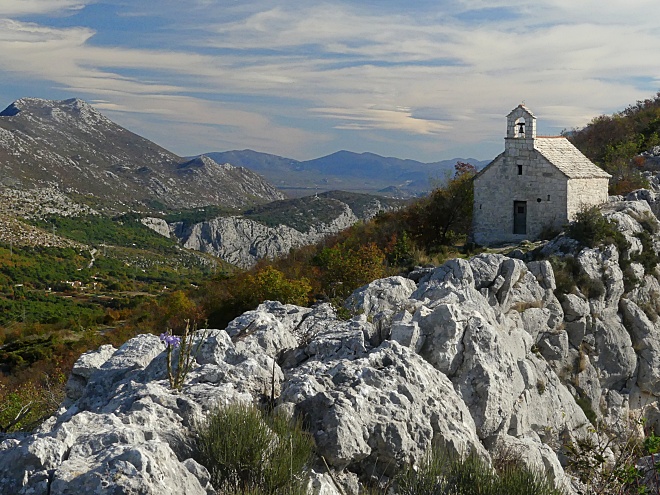 Sidetrip to the Transmission Relay station above Tugare: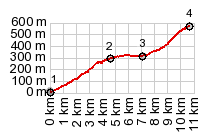 1.START-END EAST:jct 6142 - D70, just west of Omis
2.profile turns stays stright onto smaller road to Tugare
3.Tugare and start of out and back summit
4.TOP:transmission tower at end of road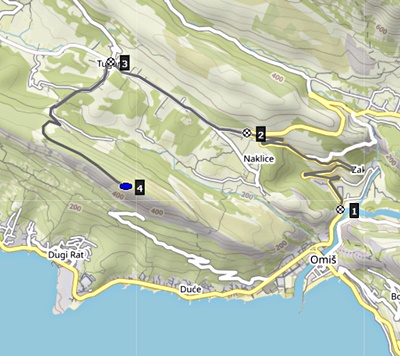 The asphalt road becomes a narrow strip of crumbly pavement after the first church and its cemetery. Past that a single switchback, followed by a wide curve climbs the ridge separating the valley from the sea. There is a nice view at the transmission tower. But actually, leaving a little lower from this road is a short signed trail, leading to a 11th century church, an infinitely more inspiring and also scenic place. I actually walked this in my cleated bike shoes. The trail is short but rocky.

Later I met a British mountain biker who carried his bike to this church, on a trail directly from Omis, then went down this way.

Slideshow of the Sidetrip to the ridge, and short walk to the church

cLiCk on image , arrows , or thumbnails to advance slideshow
Dayride with this point as highest summit:
COMPLETELY PAVED
( <
Clis Castle(sh)
|
Dubce Pass
> )
6142 Tugare(sh), 6270 Kucine(sh) , additonal out and back :
Stobrec > D8 south > Dugi Rat > Omis > up D70 > 6142 Tugare(sh) <> out and back to transmission tower above Tugare(ow) >> closed loop above Smovnica with less than 500ft top elevattion, but more than 300ft of climbing >> up6270 > 6270 Kucine(sh) > Split with many miles of sightseeing detours > back to Tugare with sightseeing detours: 49.6miles with 3880ft of climbing in 5:05hrs (garmin etrex30 r5:21.11.12)
Notes: day also included a short walk to the church along the one way summit, as well as much sightseeing around Split.