Col Castellaras
In the land of many small, attractive passes, this one can be easily combined with many others. The profile is just one possibility to approach this point from near the coast. The picture is taken at the summit.


1.(00.0km,179m) START-END EAST: Pont du Loup
2.(10.6km,670m) START-END EAST ALT: route de Coursegoules joins from right
3.(13.4km,828m) Greolieres
4.(18.0km,1119m) Clue de Greolieres
5.(24.2km,1163m) profile turns left onto Route du Castellaras
6.(26.1km,1248m) TOP: Col du Castellaras
7.(29.8km,1071m) lower road from Greolieres joins from left
8.(35.6km,1080m) Col de la Sine
9.(58.6km,424m) START-END WEST: jct north west of Chateau Neuf Grasse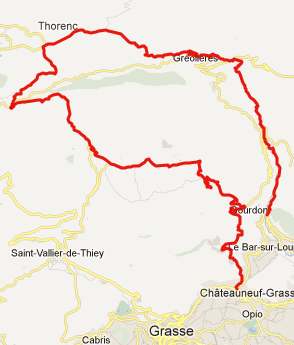 Approaches
From East. The description starts at point 3. The town of Greolieres is just far enough from the coast to keep the crowds away. I can't say I missed them, even though the few merchants and restaurants might. The road traverses up the Montagne de Chevron ridge, passing through a few short tunnels. Pictures for that section are on the D2 Clue de Greolieres/ Plan du Peyron (sh) page. Once on top of the plateau a left leads to the top of the pass.

From West. (also described upwards, starting at point 7) As you leave D79, you leave the alternate valley route below. It comes in and out of view as you climb to the pass. The summit is located on the shoulder of a mountain, where the viewshed changes completely to the Clue de Greolieres.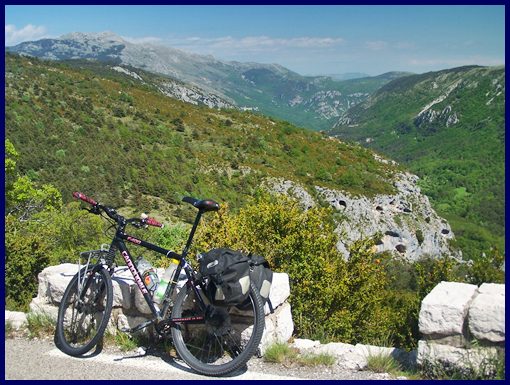 summit of Col Castellaras, looking towards Greolieres
back to Cycling Passes in Europe