Campolongo (pso di)

Highest Point: 1875m

Northern Approach:




from Pederola (1154m)
721m
20km

from Corvara (1522m)
353m
6km

Southern Approach:




from Savinier (1050m)
825m
21+1/2km
from Arabba (1601m)
274m
4km

------


View eu_Camplongo_eu in a larger map

------
Reaching pso di Campolongo from the lower Val Badia can be the high point of the day. But strangely enough, when circling the Sella group, this approach is a kind of break in the excitement, a chance to relax a little bit. This is the lowest of the four Sella Group passes, and also the pass with the fewest parked tour busses and hotel complexes at the top. Even the ski lift towers seem to be smaller.
Approaches
From North. The hustle and bustle of the Covara slowly recede in the valley. The first 2km contain 10 switchbacks, providing changing views onto Sass Songher, the giant tooth behind Covara. When riding the Sella round, the previous pass, the Groedner Joch, was a seemingly never ending group of switchbacks before reaching the top. By contrast this top sneaks up completely unexpectedly. The slope flattens out and the road passes the east side of the Sella Group. The large single hotel at the top seems low key, compared to the crowded perches of the Sella Joch and Groedner Joch, which seems just right at this point of the bike ride.

From South. (described downwards). After the bike starts to roll by itself towards Araba, a monumental peak appears ahead in the distance to the left (telephoto picture lower left). I'm not sure if this is the Marmolada, the highest mountain in Italy. To the right the ascent towards Pordoi Joch appears like a long, gradually climbing valley.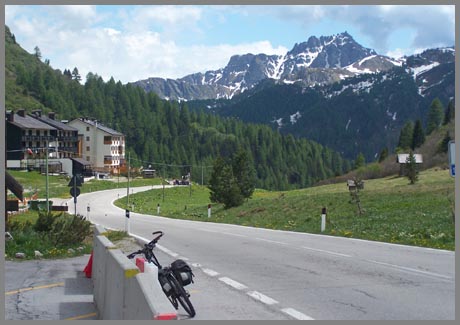 Tours
Dayrides.
A first loop ride over the Sella Group passes, plus a short approach, with lots of stops to take pictures: Fontanac > Canazei >
Sella Joch
>
Groedner Joch
>
pso di Campalongo
>
pso di Pordoi
> Fontanac measured 45 miles with 6900ft of climbing in 5:0 hours.