Puerto de Cabezo de la Plata

Here is another ridge crossing that looked interesting on the map, and even more spell binding in reality. Not only is the dessert scenery fascinating, but it is actually a very popular cycling goal. I must have seen about 100 bikers on this road. - Don't remember any cars over the top.
I have used the pictures of panoramio and flickr contributors, as well as other web sites to illustrate this page. There are copyright notices and links to all original pictures. My own pictures were on a computer, that was stolen at the train station Frankfurt Airport (model Acer Aspire One (serial# NUSGPAA01625101C947600F)

1.(00.0km,100m)START-END SOUTH: Rm-F20, just west of Biasicas
2.(16.3km,380m)TOP
3.(24.2km,100m)settlement: Cabezo de la Plata
4.(28.4km,050m)START-END NORTH: profile turns west and traverses, slightly above the valley of the Orihuela
5.(42.6km,020m)START-END NORTH ALT: Orihuela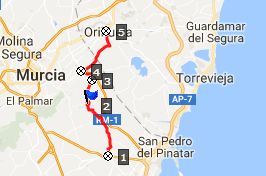 Approaches

From South. The profile starts outside of Biasicas and its straight white rows of apartment blocks. The goal is the obvious gap in the low, straight rock ridge directly to the north. The road gets interesting after crossing the railroad tracks northeast of Sucina. Since cars can get across this little desert ridge much faster on nearby Rm-1, there is virtually no traffic. A "rustic" road surface further discourages fast motor vehicles.

During the climb a nice view of the many settlements, dotting the coastal plain, receding to Cartagena and the Mediteranean in the haze opens up below. Just before the highest point there is a trailhead and a sign showing the various tracks through this fascinating dessert ridge.
From North. All the interesting dessert views are on this side. The trees open like a curtain onto a stage, featuring very recent geological deposits. The road follows the features of the dessert closely, resulting in many turns and many a crossed barranco. Nearing the end of the rol,l the road junctions become very confusing for bicycle travelers. A few connections are closed to bicycles, another unsigned road ends at a farmhouse, and in my case a bike path is flooded with deep mud. Finally I take a road, that traverses ever so slightly above the valley carved by the river Orihuela heading west. Behind it to the north is the Sierra Orihuela. It does not look like much on the map, but sometimes reality is different - an extremely steep dessert wall, that ends abruptly in the vacation town Orihuela. It is the most impressive environment, that I have visited in Murcia. Amazingly the river is here only 20 meters above sealevel, but still many kms from the sea.

Raceday on Cabezo de la Plata
Copyright: laopiniondemurcia.es pagelink
A Day on a Tour with this point as highest summit:

( < Cabo Cope s(u) | Portell de Cati > )
Puerto Cabezo de la Plata : Cartagena > Torre-Pacheco > Baisicas > Puerto Cabezo de la Plata > El Mojon > Orihuela with detours > Albatera.
Notes: gps data is on stolen computer

cLiCk on image , arrows , or thumbnails to advance slideshow