Col de Banquettes


Three narrow paved roads and a dirt road meet at this peaceful saddle above Ste Agnes. This pass makes a nice combination with
Col de Madone
in a loop ride, with the old village of Ste Agnes as main attraction. Only the two approaches from the coast are described below. The third road goes higher and goes to
this summit
.

1.(00.0km,2m) START-END WEST: jct: promenade du Soleil - D22, Menton
2.(09.5km,600m) upper turnoff to Sainte Agnes on right, and turnoff to Col de la Madone on left
3.(11.8km,741m) Col de Banquettes, profile stays right at fork immediately following pass
4.(15.2km,639m) alternate route on right goes to l'Escarene
5.(25.0km,195m) profile turns left onto D21
6.(31.8km,108m) profile turns left onto D2204 in La Condamine
7.(35.7km,77m) la Trinite
8.(43.1km,3m) START-END EAST: port in Nice
Approaches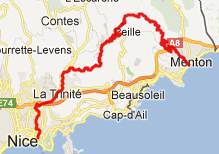 From South. The profile follows D22 from Menton to St Agnes, but many other possibilities exist. Past Ste Agnes a few talus strewn switchbacks traverse up the mountain to this spot. At the top is a water tank for fire emergencies.

From West. (described downwards) Going left will lead to Peillon, or the l'Escarene via a remote road labeled "chemin de Trues" on signs. Google maps labels it "route de l'Escarene". The profile takes the more direct route through Peillon, that gets increasingly more traffic and finally ends in the traffic chaos of the Nice port.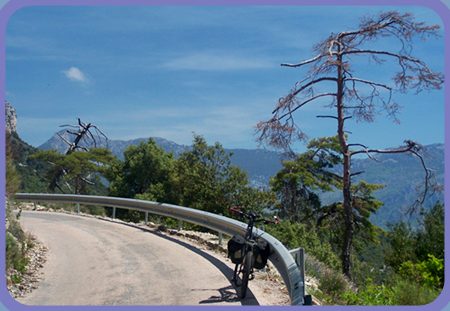 History

Being close to the Italian border, the pass was used as part of the French defense mechanism before WW2. The name "alpine line" or "Little Maginot Line" applies to whole series of forts and passes along the French - Italian border. It is an extension of the more famous Maginot Line.

A
Dayride
with this point as intermediate summit is on page:
Col de Madone.html
The first pass with different start and end points on this
Extended Tour
is:
Col de Vence