Monte du Col du Pre


The Col du Pre connects the valleys of two great reservoirs, the Barrage de Roselend, and the smaller Barrage de Guerin. The only way to construct a loop with this as the highest point, both approaches have to originate in Beaufort (considering paved routes only). Col du Pre can also be readily added to a loop ride over the higher
Cormet de Roselend
. The name "Monte de Col du Pre" is taken from a sign at the top of the road, which reaches a little higher than the pass itself.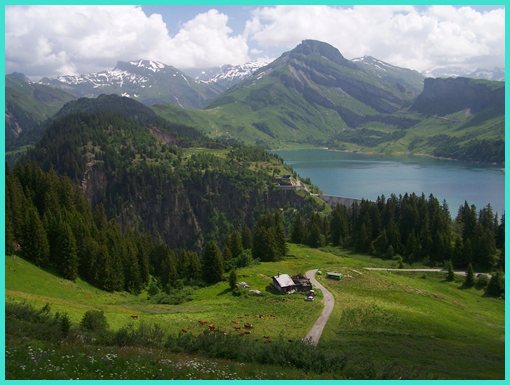 descending Col du Pre to Lac de Roselend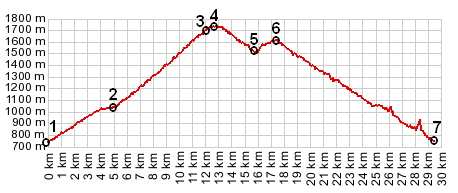 1.(00.0km,743m) START-END 1: Beaufort
2.(04.9km,1031m) route turns left in Areche
3.(12.1km,1703m) Col du Pre
4.(12.5km,1748m) TOP: Monte du Col du Pre
5.(15.4km,1560m) road reaches Lac de Roselend
6.(17.3km,1605m) road turns left at Col de Meraillet, joining with road from Cormet de Roselend from left
7.(29.3km,743m) START-END 2: Beaufort, same as point1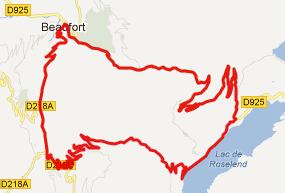 Approaches
From West. Traffic between Beaufort and the ski town of Areches can be pretty busy in the morning hours. The road uses a few switchbacks just to get out of Beaufort, delivering a close up view of the upper stories of the old town buildings. After that the road stays in the valley to Areches. The junction between the roads to the two "barrages" comes after having entered this town, consisting of widely spread out tourist homes. Past this junction the road starts climbing the ridge to the west in seemingly never ending, regular switchbacks, passing through several parts of the town of Boudin. The top is a popular pique-nique site with an adjacent, rustic mountain hut. But the point of highest altitude comes a little later, and the expected Beaufort cow is there to congratulate you on your cycling conquest (on a sign).

From East. A even more interesting view opens up on this side, just past the summit as you pass a small farm. Above the large reservoir a block shaped mountain gives the scene a vertical edge. It's the Aguile de Grand Fond (2889m). The road quickly descends the few hundred feet to the reservoir, and then crosses it on its damn. A few small hills through the forest lead to the junction with the Cormet de Roselend approach from Beaufort. The profile turns left and descends.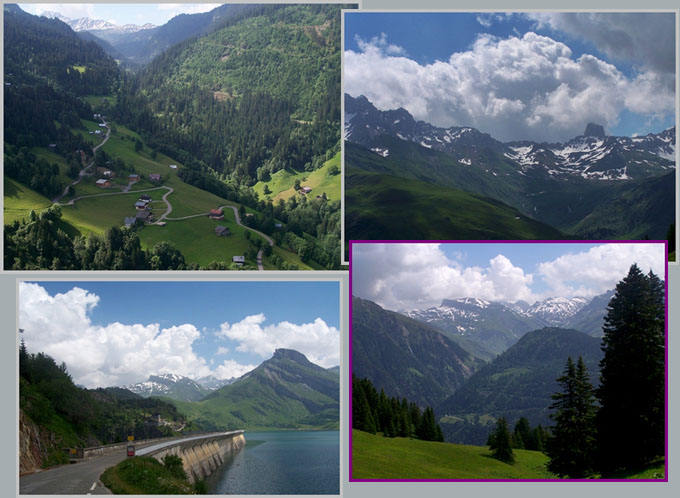 top left: looking onto road to Barrage de Guerin and Col d'Areches, while climbing west side of Col du Pre
bottom left: the eastern side of Col du Pre Road crosses the damn
top right: this square top mountain is above the Lac du Roselend
bottom right: looking north from near summit of Col du Pre



A

Dayride

with this pass as intermediate summit is on page:

Cormet d'Areches



The last pass with different start and end points on this

Extended Tour

was: Cormet de Roselend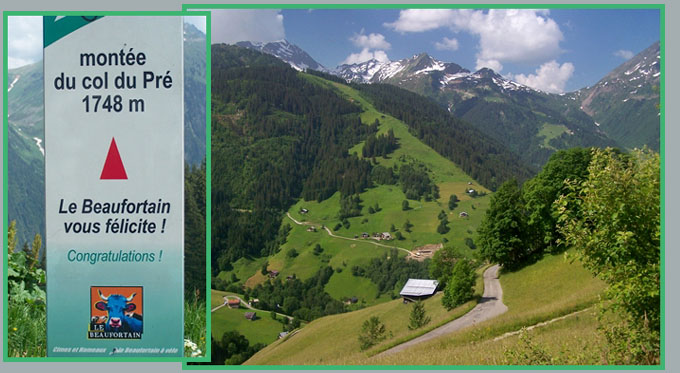 left: upon reaching the summit - the local cows congratulate cyclists
right : climbing above the town Areche on way to Col du Pre

back to Cycling Passes in Europe