Ammersattel

Highest Point: 1118m

Eastern Approach:


climb

from Reutte (~840m)

~19km

~278m

from west end of Plansee (~980m)

~7+1/2km

~138m

Western Approach:




from Oberammergau (~840m)

~21km

~278m

from Linderhof turnoff (~940m)

~8+1/2km

~178m

-----

View eu_Ammersattel in a larger map
-----

The Ammersattel is a low gentle secondary pass between Austria and Germany. It has a major scenic attraction on each side: a rugged lake, the Plansee on the Austrian side, and a decadent Schloss on the German side. When I cycled it, the road was closed to automobile through traffic, and therefore wonderfully quiet, but I imagine this secondary road through the largest contiguous nature reserve of Germany is fairly quiet at other times too.


Approaches
From West. The roundabouts of Reutte, Austria label the route up to the pass with "Plansee". The third roundabout finally points upwards, and a road with many slight turns follows the valley of the Arch. The Plansee is one of very few lakes that until recently seemed to be forgotten by the real estate developers. But now there is also a new hotel taking root next to the narrow curvy road. The adjacent Plansee and its rugged, glaciated triangular peaks are the major attraction along the route. My map labels the border post as the saddle, which is correct. But the point of highest altitude comes prior to saddle, in Austria. At the top are a few curves that could pass as switchbacks, but not very steep ones.
From East. (described downwards): It's a long gentle descent through deep forest, periodically opening up views on the braided stream of the Lindergries. Schloss Linderhof is a few kms off the main road, but the decadence is worth the detour. You might even say the decadence mandates a detour. From Linderhof downstream, and I think also above there, a mostly unpaved bike route follows a path separate from the road. I took the road. There are many "Zimmer frei" opportunities in Graswang, but not much in the way of eating opportunities. Continuing downhill, a left on a small road that could be a bike path in its own right, but has an additional bike path next to it leads to Oberammergau, passing through a rare alpine wetland scenery foregrounding the walls of the Estergebirge.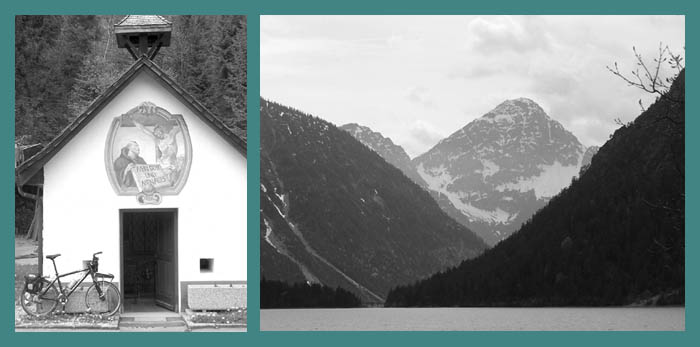 Extended Tour.


Ammersattel: Fuessen >Reutte >Ammersattel > Oberammergau -> Bad Kohgrub >Seehausen bei Murnau: 46 miles with 4200ft of climbing in 4:4 hours.
Notes: also includes 2 climbs to Neuschwanstein and one climb to Hohenschwangau.
A dayride, starting from the endpoint of this day, Seehausen bei Murnau, are on page:
The first dayride over a pass after this pass was from Kruen with highest point:
Hochalmsattel