Weston Pass

Weston Pass is a happy medium when it comes to crossing the southern part of the Mosquito Range. To the north is the rough and high
Mosquito Pass
. To the south US285 crosses
Trout Creek Pass
with barely a curve or climb from South Park. Between them a dirt road leads to magnificent views onto the Sawatch Range with a great climbing work out.


click on profile for more detail

1. (mile00,10195ft) START - FINISH ALTERNATE: Leadville
2. (mile07,9370ft) START - FINISH WEST: Weston Pass road starts on left
3. (mile07,9300ft) stay left, go up hill
4. (mile18,11921ft) TOP: Weston Pass
5. (mile24,9950ft) Rich Creek Campground, Road becomes larger
6. (mile27,9840ft) stay left at junction
7. (mile29,9750ft) dirt road joins from left (stay right)
8. (mile34, 9650ft) START - FINISH EAST: junction with RTE 285, turn left to Fairplay
9. (mile39,9950ft) START - FINISH EAST ALTERNATE: Fairplay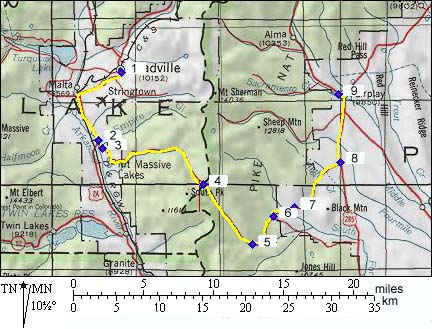 Approaches
From West. Weston Pass leaves the Arkansas Valley at a point roughly a thousand feet lower than where the Mosquito Pass road does. The additional approach from Leadville to the turnoff is included in this profile - only because a day of cycling over the pass is much more likely to begin in Leadville than at the turnoff. As the dirt road climbs, the Mosquito Range presents a gentle picture, here near its southern terminus, so that no switchbacks are required. The real visual action takes place across the Arkansas Valley, where 14ers form La Plata Peak to Mount Massive lump together over Twin Lakes. The road contains a few rocky sections, alternating with smooth dirt formed into big waves that may be a problem for anything on four wheels but is fun on two.

From East.

(also described upwards) As you travel along US285 through high and dry South Park, there are two roads, that signs designate as approaches to Weston Pass. One lends itself better for combining this pass with Mosquito Pass, the other with points south, like Trout Creek Pass or any of its unpaved alternatives. The profile above contains the northern approach, The two roads are elaborately engineered dirt roads, the kind that cars don't slow down for, and throw up clouds of dust instead. Where they meet the road makes a semicircle to the south, passes a campground and finally starts climbing in hearnest, shedding its high speed character and following the South Fork of the South Platte River. For me the most impressive view is from here looking up to the pass, which from this perspective is dwarved by the smooth, round shape of Ptamigan Peak to its right. There are no switchbacks. Instead the road becomes very steep.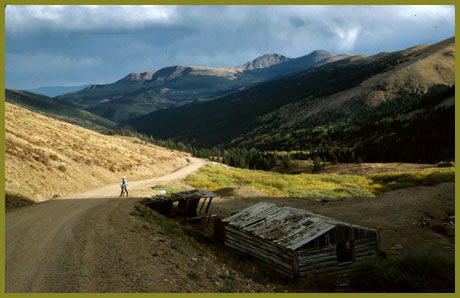 Dayrides with this point as highest summit:


PARTIALLY PAVED/UNPAVED:


Weston Pass, Trout Creek Pass: campsite on FR187, a few miles west of Trout Creek Pass > US285 east > Trout Creek Pass > CR22 north west > Weston Pass > US24 south > Buena Vista > CR313 south > Johnson Village > US285 back to starting point: 83.5miles with 5030ft of climbing in 6:55hours (VDO MC1.0 m3.11.6.23).


Dayrides with this point as intermediate summit are on page:


History


Colorado Gold Rush of 1859/60(<Mosquito Pass|Cinnamon Pass>): High mountain passes pioneered by gold seekers in South Park radiate out like spokes from a wheel. Yet the history of Weston Pass is distinctly different from any onf them. Yes, prospectors did pan on the South Park side as they did on all the other major passes in the area. They also used this pass to access California Gulch in the upper Arkansas valley. But the major role of the pass became its function as a wagon road supplying the upper Arkansas, from Canyon City and Currant Creek.


Leadville Boom(<Kenosha Pass|Mosquito Pass>): When it came to supplying Leadville and the upper Arkansas valley with goods, Weston Pass was shorter than the more obvious route over Trout Creek Pass. And even though the Weston road climbed much higher than Trout Creek Pass, you did not have to descend into a much lower part of the Arkansas valley, only to climb back out of it. Additionally you saved about 30 miles in destance, and bypassed a canyon shelf road between Trout Creek Pass and Granite.


During its heyday three different road companies ran trails across the pass, even if the third company only lasted for three years. In 1877 Hayden's atlas of the west still showed Weston Pass as a major road and the route over Mosquito Pass as "just a trail". Already in 1880 railroads, reaching Leadville by different routes, took much of the business. Iimprovements on the Mosquito Pass road stole much of the remaining business.


The pass was finally named after a settler on the west side of the pass, who began raising beef for the supply trains that passed.

Cycling: An early mountain biking guide, first published in 1987 mentioned Weston Pass as being suitable for mountain biking in its appendix, without describing it any further (William L. Stoehr's: Bicycling the Backcountry).