FR869 Toll Road Gulch s(u)

aka Squirrel Creek Road
This historic Otto Mears Toll road is not mentioned in books that deal with the history of Rocky Mountain passes. At least I can't find any. Maybe that's because this pass between Silver Creek and Squirrel Creek (flowing into Kerber Creek) never got the formal designation "pass" and a name to go along with it. But it is displayed with a pass symbol is on a map along the route. This surface of this jeep road is more rideable than most, but steep in places.


1.(7480ft,mile00) START-END NORTH ALT.: Poncha Springs, jct US50 - US285
2.(8440ft,mile06) route turns right onto Marshall Pass Rd
3.(8700ft,mile08) START-END NORTH: profile turns left up Silver Creek Rd, near Shirley townsite trailhead parking lot
4.(9500ft,mile14) profile turns hard left, up FR869 Toll Road Gulch
5.(11220ft,mile17) TOP
6.(9620ft,mile21) jct with several forest roads near Bonanza Mine
7.(9440ft,mile22) Bonanza
8.(8580ft,mile30) road following Columbia Gulch joins from right
9.(7990ft,mile38) START-END SOUTH: road ends onto US285, just north of Villa Grove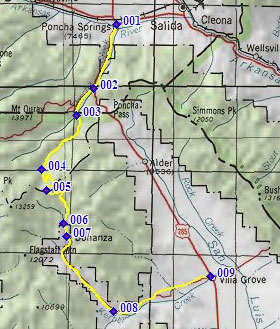 Approaches
From North. To make it look big, the profile starts out along the Poncha Pass road, then branches onto the Marshall Pass road. From the Shirley Site Trailhead the route follows a good dirt road up Silver Creek. This road becomes the Silver Creek Trail when the going gets difficult, as the route tries to pass between narrows with a formidable cliff on one side. Just before the entrance to these cliffs, a sign points up Toll Road Gulch, turning back in a northerly direction. The initial very steep section soon levels out a bit and becomes very rideable. After considerable climbing the road seems to head for a summit, but only on first sight. As the trees clear for the first time, it becomes clear that the view is of Mount Ouray to the north, that is the same side we have been ascending.

The summit area could already be seen from the bottom. From down there it was just a little hard to believe, that the straight line above a set of cliffs on the side of Porphyry Peak was a road cut. But from this new vantage point, it is in better view and within reach. The road traverses steeply, still in the trees, and becomes increasingly rocky in places before it reaches the road cut. The view is still of Mount Ouray, just a lot better than from below. A few more yards and the summit is reached. The view shed changes to the area of Antora Peak. A sign indicates the change from San Isabel to Rio Grande National Forests. The road changes its name to Squirrel Creek Road but retains its number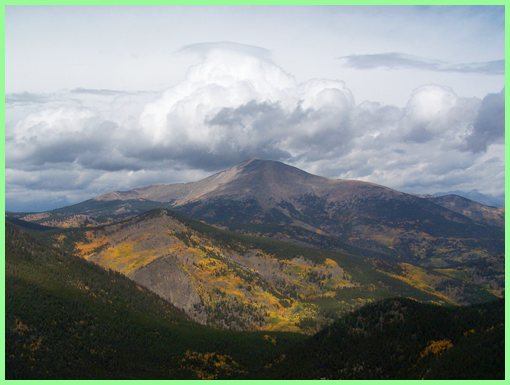 Mount Ouray from FR869 Toll Road, north side
From South. (described downwards) The descend in the trees soon reaches the Bonanza Mine area, which is a junction for several forest roads. An unusually detailed map sign at this location, details several return possibilities over summits to the east, heading for US285. This is also the map that marks FR869 as a pass.

Instead of returning over another summit the profile goes lower to maximize the approach height. A wide, all weather dirt road descends to the town of Bonanza. This town is a mixture of old mining era buildings, mostly in "uptown", with newer constructions ranging from a few luxury buildings to mostly mountain huts and trailers in the "downtown" section. The straight, wide dirt road continues and makes for fast travel all the way to US285, intersecting it just north of Villa Grove.

Dayride with this point as highest summit:

PARTIALLY PAVED / UNPAVED

(<Colorado Trail m272.1 s(u)|)
FR869 Toll Road Gulch s(u) , Poncha Pass : campsite near Shirley site area (lower Marshall Pass road area) > up Silver Creek Rd > up FR869 > FR869 Toll Road Gulch s(u) > Bonanza > down LL56 > US285 north > Poncha Pass > FR200 Marshall Pass Rd back to starting point: 53.8miles with 4180ft of climbing in 5:10hrs (VDO MC1.0 m5:12.9.24).