FR185: Aspen Ridge s(u)

The mountain range on the east side of the lower Arkansas Valley, south of
Trout Creek Pass
is not honored with a name on my maps - or so it seems at first. In most areas a range of this size would definitely have a name, but maybe it just pales into insignificance compared with the string of 14ers in the Sawatch Range on the other side of the valley. But over on this side, this ridge is the perfect vantage point onto those 14ers.
By inference this is the southern extension of the Mosquito Range, a lot lower here than where
Mosquito Pass
crosses it. Now it is gentle enough to contain a maze of dirt roads, including something resembling a run along the ridge line over Aspen Ridge.
This route is included in the publication about mountain biking opportunities in the Arkansas Valley, that is available for free at local businesses. It is included in the map, but it is not described.


click on profile for more detail
01.(7890ft,mile00) START-END NORTH: US285 turns east out of Arkansas Valley, at Johnson Corner.
02.(8710ft,mile07) route turns right onto FR187
03.(8820ft,mile08) route turns right onto FR185
04.(9590ft,mile14) profile takes right at this fork onto less traveled FR185B
05.(9330ft,mile17) intermediate low point
06.(10310ft,mile21) TOP
07.(9040ft,mile28) route joins FR175
08.(7050ft,mile27) START-END SOUTH: downtown Salida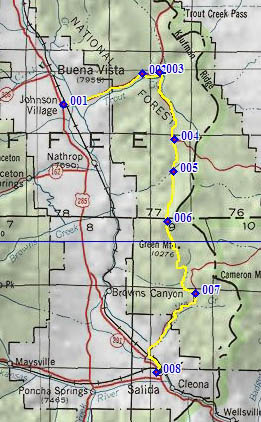 Approaches

Northern Approach: The profile starts where US285 turns east, to climb out of the Arkansas Valley over Trout Creek Pass. The road here is not rumble stripped (as of June/2018, unlike the other side of the pass). Most of the time there is a very narrow shoulder that is really not sufficient for riding. At least one stretch has no shoulder.

After the climb levels out a bit FR187 can be used as an alternate for US285 for a short distance. The turnoff onto FR185 at point 2 is labeled with Bassam Park (amongst other destinations) and a route number. During my last ride on the route I met and photographed several pronghorn sheep here. FR185 climbs gently. Turning around the billowy rock outrcrops of the Dakota formation make a sharp foreground to the Buffalo Peaks in the distance.

Later, as FR185 turns east, the profiled route continues straight on what is labeled as FR185B on the roadsign. The road goes over a reguar roller coaster just west of the ridge line. Periodically views open up onto the Sawatch Range, including Mount Princeton and its unmistakable chalk cliffs, foregrounded by a ridge of Aspen. Small detours to the west give even better views. The highest point has a campsite and one of these views.

Southern Approach: (described downwards) A rougher, rockier road leads down into the "Aspen Ridge land management area". The Wasatch Range continues to be the main star in this movie, now featuring its southern peaks to Mount Ouray. A number of turnoffs lead to mining claims. Always taking the downhill option will lead to the shortest route to Salida. Going the other way is a little trickier. Soon the route becomes a wide dirt road, changing designations a number of times, depending on what map you look at. But FR175 will eventually end in a long downhill to Salida, with Mount Ouray dominating the view.