Colorado Trail m175.7(sh)

(Upper South Elbert Trailhead)

This is a rare section of the Colorado Trail along the Wasatch Range, where the route runs far enough away from it, so that you can get a good view of it. It is also a very short section, so that it is also included in the section
Colorado Trail m171.6 s(u)
.
Directions involving the South Elbert Trailhead can be confusing. That's because there are two of them. Drive up the only paved road north from Twin Lakes past Lakeview Campground, and you'll find a prominent national forest sign behind a parking lot saying "South Elbert Trailhead", together with a Colorado Trail emblem pointing the way. Look close to the right of the parking lot, and you'll see a sign saying South Elbert Trailhead 2 miles, pointing up FR125.1B (as of summer 2011). To avoid confusion I'll call the first one the lower South Elbert Trailhead, and the second one the upper South Elbert Trailhead. The upper trailhead is the point of highest altitude between the Colorado Trail and FR125.1B.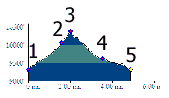 1.(9290ft,mile00) START-END WEST: Colorado Trail crosses under Co82, east of settlment of Twin Lakes
2.(10050ft,mile02) CT crosses creek
3.(10380ft,mile02) TOP: CT merges with road below upper trailhead. Profile turns right down FR125.1B
4.(9620ft,mile04) FR1251B meets paved road at lower trailhead
5.(9320ft,mile05) START-END EAST: jct Co82 - paved road to Mount Elbert forebay and Lake View Campground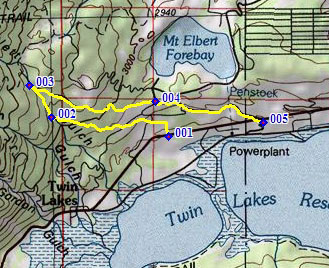 Approaches
From South. The Colorado Trail on the north side of Twin Lakes runs between the lake shore parking lot and Co82. A convenient place to pick it up for this climb is as it passes under the road, a short distance west of the most prominent building on this side of the lake. There is also a Colorado Trail sign there. The trail angles westwards and passes by a few campsites of the Lakeview campground.

During my particular Labor Day visit this area felt just a little bit like the Denver area Cherry Creek bike path ride in the spring. The same people who could be watched barbequing from the Cherry Creek bike path in spring, could now be observed at the same activity next to the Colorado Trail on Labor Day.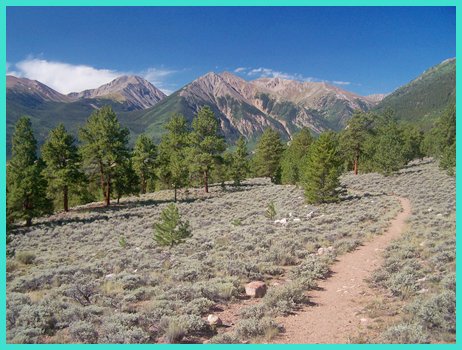 At the next intersection a extreme hard right leads to the lower South Elbert Trailhead. If one happens to be coming from there and wants to go down to the lake, you have a hard time guessing that you have to take a left turn here.
But continuing up towards the upper trailhead, the route goes by some great views of Mount Huron and the lake, then enters the forest, converges with another direct trail to the town of Twin Lakes and finally climbs steeply to the upper trailhead. Where it converges with the road, is about 50 feet lower than the upper trailhead, just where the cars start clogging the space between the trees.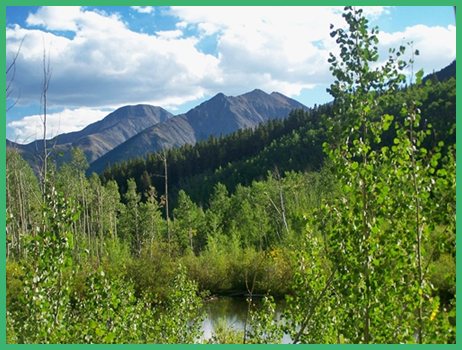 From North (described downwards): The road stays a little lower than the trail, and you now you can see the little lake you passed from the other side. The road emerges as FR125.1B at the lower trailhead. From there it's a fast paved descent to Co82. Another option (not shown in profile) is to to ride around the Mount Elbert Forebay and descend towards US24 on rough pavement and a short stretch of dirt.
Dayride with this point as highest summit:

PARTIALLY PAVED / UNPAVED / SINGLE TRACK
Colorado Trail m175.7(sh) , Colorado Trail m185.7 s(u):
lower South Elbert Trailhead area > CT to Colorado Trail m175.7(sh) > down FR125.1B > paved road to Twin Lakes > Colorado Trail across Twin Lakes Dam <> out and back on unmarked FR south of Twin Lakes to jct with FR114 >> Colorado Trail m185.7 s(u) > Colorado Trail m185.7 s(u) > down FR120 > north on US24 > Granite > Co82 to Twin Lakes > a few miles looking for trail > Colorado Trail back to lower South Elbert Trailhead area: 38.9miles with 3910ft of climbing in 5:00hours (VDO MC1.0, m3.11.9.3, t11_6).