Colorado Trail m171.6 s(u)

(section: Elbert Creek Th - Twin Lakes)

This section of the Colorado Trail skirts along the flanks of the state's highest mountain. But that description is misleading. It skirts very far below the flanks of this mountain. You don't really see very much of Mount Elbert. It makes one appearance as a rounded eminence above a wet meadow, and that's about it. This is still one of the most enjoyable sections of the trail, mostly because of its cycling conditions, few rocks, manageable grades, hardly anything to break your face on, as you skirt along quickly, hundreds of feet above a wide valley, and thousands of feet below the peaks.


1.(9290ft,mile00) START-END SOUTH: Colorado Trail passes underneath Co82 to Independence Pass
2.(8540ft,mile01) trail passes by campground
3.(9620ft,mile02) START-END SOUTH ALTERNATE: hard right leads to lower South Elbert trailhead. Profile continues straight
4.(10460ft,mile03) Colorado Trail stays right, while trail to Mt Elbert takes off on left
5.(10514ft,mile04) intermediate summit
6.(10580ft,mile05) intermediate summit
7.(10280ft,mile06) junction with trail leading to forest road on right. Trail stays left
8.(10660ft,mile07) TOP
9.(10100ft,mile08) trail reaches Elbert Trailhead and goes down road
10.(9460ft,mile13) low point on road, as it crosses Lake Fork
11.(9560ft,mile14) START-END NORTH: jct Halfmoon Creek Rd - Co300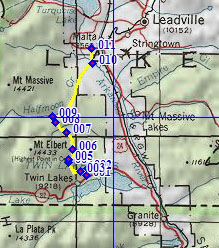 Approaches

From South. There are several ways to get from Twin Lakes to the upper South Elbert Trailhead on a bicycle. One of them is to pick up the Colorado Trail as it goes under Co72, a short distance west of the Water Diversion Visitor Center. That's the route shown in the profile. There is also a paved road to the north, see the Colorado Trail m175.7 shoulder summit page for other options on this somewhat confusing portion of the trail.

Following the Colorado Trail from its Co72 underpass, it is possible to take a wrong right turn and end up at the paved parking lot of the lower South Elbert Trailhead. Following the correct version of the trail, eventually leads to a dirt road crossing not far below the upper South Elbert Trailhead.

This second Elbert trailhead is deep in the woods, during my visit on a busy summer weekend every inch of free space between the trees filled with parked 4wd vehicles, whose owners could probably swear they can go anywhere with it. (Yes, but can they find a place to park ?) Here a new nicely illustrated map shows the way ahead for Mount Elbert hikers, as wells as Colorado Trail travelers. The single track begins on the other side of a nicely constructed bridge.

I already praised the riding conditions in the introduction, so I won't do it again, although I could. Around point 7, the trail intermittently becomes quite wide, making progress even faster. After a few rolling summits, the real top and the sight of cars parked along Halfmoon Creek sneaks up quite unexpectetly.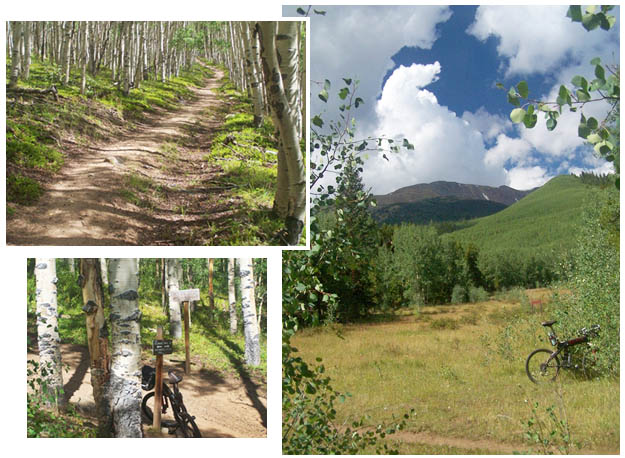 From North. (described downwards). Steep switchbacks quickly descend to the creek, it's a little more rocky here, but still less rocky than reality. From the trailhead, following the dirt road, a quick descent leads into the valley, where you finally get a view of all those magnificent peaks, you were so close to.

Dayrides with this point as intermediate summit:

PARTIALLY PAVED / UNPAVED / SINGLE TRACK

Mineral Belt bike trail , Colorado Trail m171.6 s(u), additional out and back: lower South Elbert Th > FR125.1B to upper Elbert Th > Colorado Trail north > Colorado Trail m171.6 s(u) > down Halfmoon Creek Rd > Co300 west and north > CR5A and CR5 to Leadville > Mineral Belt bike trail starting on the north side <> out and back up Evans Gulch > CR38 to the first mine >> continuing to Mineral Belt bike trail s(u) > US24 south > CR24 > Mount Elbert forebay > back to starting point: 52.2miles with 3880ft of climbing in 4:54hours (VDO MC1.0, m3:11.9.2, t11_6)