White Mountain Road via Rock Springs(sh)

This is a point on the Wild Horse Loop Rd. The highest section of this road is approached by an additional very steep approach from Rock Springs. At the top of this approach you can turn right and cross the highest point on the Wild Horse Loop. If you turn left or west, this point becomes the summit point, but only by 30ft or so. Both options are scenically fascinating. The option turning left (shown in the profile below) has a better road surface.


1.START-END WEST:jct Foothill Blvd - Gookin-White Mtn Rd
2.profile turns left onto White Mtn Rd/ Wild Horse Loop
3.TOP,7580ft
4.profile turns left to downtown Green River
5.START-END EAST: downtown Gteen River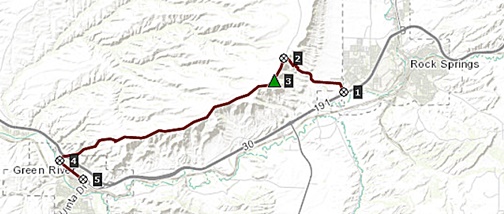 Approaches

From East. There are no signs hinting at the presence of this road from the I80 business route. The road has an an unsuspecting something-drive name. It is immediately west of the Home Depot and the last road heading in a north-easterly direction, when exiting Rock Springs.

Once on this suburban drive, the preferred mode of habitation soon changes to trailers. After leaving behind the last homesteads of this kind, a road sign names this as "White Mtn Rd". This can be confusing, because it is the same name as the name applied to the road following the rim on top of the mountain. But we are not there yet. One White Mtn road ends at a T-junction with the other White Mtn Rd. To avoid confusion, some maps use the name "Gookin - White Mtn Rd" The road has a fairly hard surface, and it soon becomes extremely steep, so that the 1300ft of climbing may seem like much more. A transmission tower at the jct with the real White Mtn Rd serves as sign of progress, but only during the last 400 ft of climbing.

Turning left at the junction one of the next bumps along the way is the highest point

From West. This is pretty much the same as the western approach to Wild Horse Loop s(u). It is a much gentler road and more suitable for climbing on any kind of muscle powered transportation device.

cLiCk on image , arrows , or thumbnails to advance slideshow
Dayride with this point as highest summit:
PARTIALLY PAVED / UNPAVED
( <
Wild Horse Loop s(u)
|
Aspen Mountain Road s(u)
> )
White Mtn Rd via Rock Springs(sh) :
near several miles up White Mtn Rd from Green River > White Mtn Rd east > unsigned intersection with 3 additional tracks at 7100ft > unsigned track north then east <> out and back on unsigned track south to overlook over Green River, western part >> unsigned track south > jct Blue Mtn Rd - I 80 > Green River with several miles of sightseeing detour on south side of the river > I80 east > Rock Springs with sightseeing detours > Gookin - White Mtn Rd north > White Mtn Rd west > White Mtn Rd via Rock Springs(sh) > back to starting point near White Mtn Rd: 49.4miles with 3030ft of climbing in 4:55hrs (garmin etrex30 m3:20.9.23)