Powder River Pass
Powder River Pass is one of two great scenic routes across the Bighorn Mountains, which are mostly located in north Central Wyoming. But they reach up into Montana. This pass has a big elevation gain, but the road never becomes very steep. Scenically the most intersting part is the canyon topography on the west side. The only time there seems to be a lot of traffic is when the nation's motorcyclists are converging on some little town in North Dakota for a kind of american motorcycle holliday.

There is an excellent shoulder on the entire length of this road. I seem to remember a few miles of rumble strips on the lower west side. But they are very narrow, and to the right much space remains for a safe ride.


1.(mile00.0,4490ft)START-WEST: east side of Tensleep
2.(mile07.2,5180ft)lower jct with Wy435 (old Highway16)
3.(mile15.0,7430ft)upper jct with Wy435 (old Highway16)
4.(mile18.8,8410ft)western turnoff to Tensleep Reservoir and ski area
5.(mile28.6,9666ft)TOP: Powder River Pass
6.(mile29.5,9370ft)turnoff to FR26 and Munkres Pass on right
7.(mile38.0,7900ft)turnoff to Crazy Woman Canyon Rd on right
8.(mile43.0,8380ft)Powder River Pass Rd eastern summit s(u)
9.(mile64.0,4670ft)START-END EAST downtown Buffalo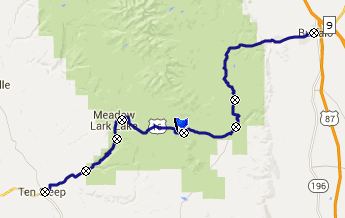 Approaches

From West. US16 leaves Tensleep, approaching the mount of Tensleep Canyon in round about rectangular fashion. Looking at the Bighorn Mountains ahead, the rocklayers slope up, as if you were standing in front of a slanted roof. So later, it will not come as a surprise that the traversed rock layers become younger not older, as you climb up the pass.

The first geological sign informs that we are now cylcling, surrounded by cliffs of the Tensleep Formation, a yellowish rock, with a few old homes at its feet. Next comes the Madison Formation. The canyon begins to widen out and a forest becomes visible above the canyon.

Next comes the geologic star in this road show the Ordovician Bighorn Dolomite. Dolomite always knows how to put on a grat dramatic show in a mountain setting. It's a cliff former because it is relatively water soluble, and Two distinct members of this dolomite form straight cliffs, still sloping upwards like you expect this big roof to do. The road requires a handful of switchbacks to get to a level above this dolomite, and all of them are climbing between lips of this rock, as they should. This Ordovician dolomite smells funny too. - Oh wait - no, those are the break pads of the trucks coming down. Apparently there is more climbing ahead.

By the the time the Cambrian Galatin formatin is reached, the show is largely over. The road goes straight in dense forest. But there is one more unusual sight - a ski resort, well a ski area with a single lodge. At the base is a large lake, a reservoir constructed by the CCC - a very peaceful setting for a ski resort, maybe with apres ski skating.

All along the way various dirt roads beg for further exploration. So far I only know Canyon Creek Road,which connects to the CR3 Hazelton Road summit point. Slowly the subdued summit ridge has been coming into sight. Once the top becomes visible the work is over. The road levels out, makes two more elegant right angle turns to reach the rocky gap at the summit, and then even dips a little bit, as if to encourage momentum to sling shot to the top. This summit ridge is shaped like something that has risen through baking, but it is pure rocks, no range land, and standing beneath it at the summit, you could even call it a cliff. On top is a monumental parking area - and yes a sign too with official elevation 9955t. All the parking areas along this road have been built, so that nobody will ever have to park in the vicinity of anybody else even on Memorial Day weekend, although some people do this anyway. There is one more geological kicker at the top: "precambrian gneiss: 3 to 3.8 billion years old" reads the sign under a mountain pile of practically indestructible rocks, a multiple of times older than the last time rocks were exposed next to the road.

From East. (described downards) To the same degree that the west side has remarkable canyon scenery, this side does not. Rolling away from the rocky top, the ride becomes a pedal as fast as you can down the gentle forested slope thing. Going down on this side requires another 580ft climb to an unofficial point, for which I have a separate page: the Powder River Road eastern summit s(u). More of the approach on that page.

Dayrides with this point as highest summit:

PARTIALLY PAVED / UNPAVED:

( < same page | Powder River Pass eastern summit s(u) > )
Powder River Pass, CR3 Hazelton Road northern summit s(u) : jct FR506 - CR3 Hazetlon Road > CR3 south > CR3 Hazelton road northern summit s(u) > Rome Hills Road west > US16 west > Tensleep > US16 east > Powder River Pass > CR3 Hazelton Road south back to starting point: 76.1miles with 7060ft of climbing in 6:0hrs (Garmin etrex30 m5:15.8.3)
Notes: In Tensleep I talked to Andre Petty, selfprofessed bicycle adventurer: andresbicycleadventure. blogspsot.com. His "business card" has the slogan: "Because too much rest itself becomes a pain". - a great cool windless day with comfortable clouds and rain that waited patiently for me to get back to my camper.

PARTIALLY PAVED / UNPAVED / INDISTINCT TRACKS

( < CR67 Slip Road northern summit s(u) | same page > )
Powder River Pass, additional out and back: jct FR506 - CR3 Hazelton Rd > FR506 west > indistinct trails and tracks west > FR452 Gold Mine Road north > FR25 Canyon Creek Rd north > US16 east > Powder River Pass <> out and back to end of FR29 > > US16 east > CR3 Hazelton Rd south west back to starting point: 43.7miles with 3600ft of climbing in 4:45hrs (Garmin etrex30 m5:15.8.2)
Notes: On top of Powder River Pass I met Tim and Sandy tf3tf3@gmail.com. This was the highest point on their cross usa ride from Seattle to Gloucester Massachusetts. - After that I had two consecutive flats. Fortunately I found the offending metal clippin the second time around. I'm not sure if Nearby Munkres Pass has the minimum 500ft elevation gain on the west side. The elevation loss from the jct with US16 to a low point at road's end is 460ft. But there is an indistinct trail that leads lower after a while.

A Day on a week long Tour, with this point as highest summit:

( < | Granite Pass > )
Powder River Pass , Powder River Pass eastern summit s(u) : Buffalo > US16 west > Powder River Pass > Tensleep: no measured milage, total milage for 6 days was 384 miles (mechanical odometer; m1:90.6.11). The only other summits on the route were Granite Pass and .
Notes: this was part of RAW, the ride across Wyoming: day 1: Ranchester -> Buffalo, day2: Buffalo -> Powder River Pass > Tensleep; day3: Tensleep -> Thermoplois; day4 Thermopolis - Meteetsee; day5: Meteetsee -> Shell; day6: Shell -> Granite Pass > Ranchester.

History

The Fur Trapper Period: The Astorians ( | Cottonwood Pass> ): In 1807, after their expedition to the north west coast, Merriweather Lewis wrote President Jefferson about the great potential for fur trade in the west, and also advocated an outpost on the Columbia River to represent US presence. Jefferson encouraged John Jacob Astor, German born New York fur king with dreams to control the fur trade all over the world to establsh this outpost.

This was the very beginning of the fur trade age in the west. Sofar the North West fur company from Montreal hat established three outposts in the west of Canada, and the Spaniard Manuel Lisa was about to establish a fur trading outpost near Yellowstone for his Missouri Fur Company.

In 1811 John Jacob Astor joined the list of treks west in full force. His pack trail of 65 people, lead by William Price Hunit, was the largest the west had seen since the days of de Anza heading for California. Their initial objective was to follow the Lewis and Clark route to Lemhi Pass. But in August they met three hunters, who had been employed by the Missouri Fur Company and who had the explored parts of Wyoming and Montana with the likes of story tellers like John Colter and other trappers. This changed their plans completely. Unlike the Lewis and Clark expedition, from now on the Rocky Mountains would be explored Spanish style, primarily on horse back, and not by boat. After trading with Crow Indians they ended up with 82 of these creatures.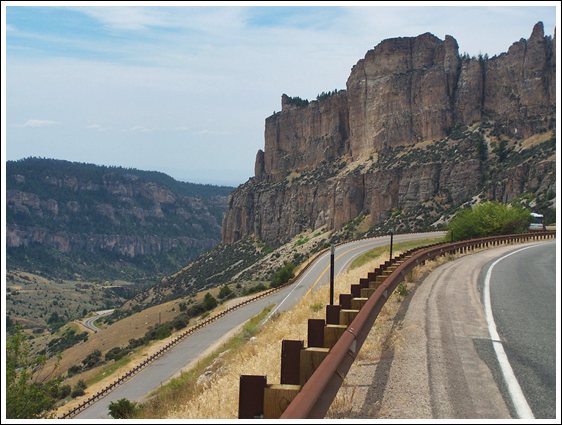 And so Powder River Pass became the first Rocky Mountain Pass to be crossed by the Astorians. After horse trading with the Crows was done they followed an old Indian trail which roughly followed today's US16 to Powder River Pass. The name of Tensleep Creek originates from being ten sleeps away from the Absoraka villages in the Yellowstone area. The group followed the trail through the badlands at the western foot of these mountains to the area of Worland. From there they avoided them by detouring south over Cottonwood Pass and Sioux Pass to today's Lysite.

Ashley's Rocky Mountain Fur Company: ( | Granite Pass > )Roughly one decade later, things had not changed as much as one might suspect. Now there was a new "fur company", William Ashley's Rocky Mountain Fur Company. The frist two years had gone very badly. In 1822 Ashley's goal was to not go into the upper Missouri area, where trappers had found more Indians wanting to kill them than beavers to kill. Instead he wanted to go with his trappers into the Green River area. His group of trappers was much smaller than the Astorians in the previous decade, but the leader was the same: William Price Hunt, originally from New Jersey.

So how would they get there. Hunt's original route west, connecting Powder River Pass, Union Pass and Teton Pass was not very useful for their purposes. But during the return trip, a few Astorians, notably Robert Stuart returned from Oregon and accidentally made the biggest discovery of the entire journey: South Pass, a way across the Rockies that is really not a pass but a plain. The grade is less than 30ft per mile on each side.

In late August, after Ashley nearly went bankrupt, they found themselves at the confluence of the Powder and Yellowstone Rivers. Ashley spit up his already small group. He and several others went north to look for Green River and South Pass, while William Price Hunt again entered the Rockies via his old route, Powder River Pass. Most of the select group people who accompanied him, would become famous guides and fur traders: including James Bridger, Thomas Fitzpatrick and William Sublette. After coming down Tensleep Canyon, this time they crossed the Powder River badlands, instead of detouring to the south. This lead them to the Thermopolis area where they used one of the passes that detoured around Wind River Canyon

Separate from the Hunt group, but also part of the Ashley company was another handful of men, led by Jed Smith. They entered the Bighorns over Granite Pass