CR67 Slip Road Northern summit s(u)

According to my gps unit, this is the highest point on Slip Road, even if the
southern summit
feels and looks, like it has that role. The northern summit also has the biggest climb on the road

01.(mile00.0,5000ft)START-END EAST: jct Mayoworth Rd- I25 in Kaycee
02.(mile11.5,5230ft)jct Mesa Rd - Mayoworth Rd
03.(mile21.6,8200ft)CR67 Slip Rd southern summit s(u)
04.(mile22.6,7600ft)intermediate low point
05.(mile26.8,8285ft)TOP: CR67 Slip Rd northern summit s(u)
06.(mile27.9,7610ft)intermediate low point
07.(mile28.9,7720ft)START-END WEST ALT: jct with Hazelton Rd; profile turns left onto Hazelton Rd
08.(mile33.0,8180ft)Hazelton Rd southern summit point
09.(mile39.0,8280ft)summit point on Otter Creek Vee Rd
10.(mile54.5,4650ft)START-END WEST: jct Wy434 - Otter Creek Vee Rd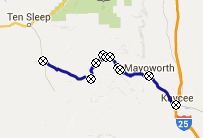 Approaches

From West. The description starts at point 3, the low point between the northern and southern summits. After crossing a streamlet the road starts climbing again, but not nearly as steeply as on the southern ascent of the northern summit. This is also the one stretch on Slip Road, where the road surface is hard dirt, not gravel, making for excellent riding (August 2015). One can only hope that sometime in the future the rest of the road will wear down to similar conditions.

The road follows a shallow, virtually treeless high ravine, bordered with massive limestone caprock at half height. The few trees that there are in the landscape play the role of old, sometimes dead natural monuments. Much of the land is fenced off for ranching.

At the crest the high part of the Bighorn Mountains become visible in amazingly clear light, even during the height of summer heat. Cloud Peak and its companeros are soft obtuse triangles, sitting on the ranchscape, surrounded by pure blue.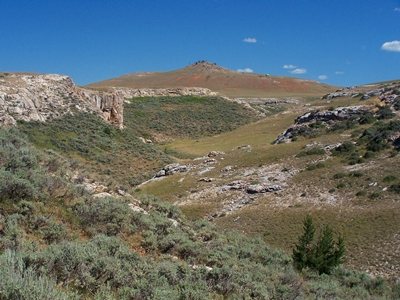 From East. (described downwards) The road makes a 90 degree left turn and another unpaved climb becomes visible. This next climb is between the same distinctive caprock at half height of the canyon, that has already distinguished the journey so far. But before that is reached the road descends again over 500ft, squiggling through the landscape like the line of a drawing, sometimes made more three dimensional by a dust plume of an approaching ranch truck.

Also, before that next uphill is reached, Slip Road terminates onto Hazelton Road, and the surface becomes noticeably worse again for cycling - more dust, more gravel, less traction. The right on Hazelton Road goes generally gradually uphill towards Powder River Pass. But the profile turns left and makes a big bow back into a southerly direction. Along the way the route crosses one more summit before descending into Big Trails.

Dayride with this point as highest summit:

COMPLETELY UNPAVED:

( < Muddy Mountain Road s(u) | Powder River Pass > )
CR67 Slip Road Northern Summit s(u) x2 , CR67 Slip Road Southern Summit s(u) x2 , additional out and back : campsite at 6730ft on Slip Rd <> Slip Rd west <> CR67 Slip Road Southern summit s(u) <> CR6 Slip Road Nortern summit s(u) <> Hazelton Rd north << Turnaround Point Dullknife Reservoir: 45.9miles with 5160ft of climbing in 5:39hrs (Garmin etrex30 m5:15.8.1)
Notes: way too hot for enjoyability on this first of August. That's why this ride started above the low point. At least the night was cool.