Bridger Pass


Considering how many Cottonwood and Ute Passes there are, the name Bridger Pass has been used sparingly, considering that Jim Bridger is one of the pioneer west's prime trail finders. There are only two Bridger Passes that I am aware of. One is in Montana, and this one is south west of Rawlins, Wyoming. But Jim Bridger's name is applied to other items too, among them one National Forest, a nearby peak in the Sierra Madre Range, and an entire range in Montana.


1.(mile00.0,7090ft)START-END EAST: south side of Teton Reservoir
2.(mile02.3,7130ft)START-END EAST ALT: start of Bridger Pass Rd, jct with Sage Creek Rd
3.(mile12.7,7620ft)TOP: hightest point on Bridger Pass Rd, short distance past official pass.
4.(mile19.6,7120ft)START-END WEST: Bridger Pass Rd crosses Muddy Creek and turns into Muddy Creek Rd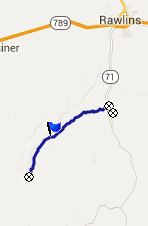 Approaches

From East. These days the turnoff from Wy71/FR401 to Bridger Pass road is marked with an attractive BLM sign. It is just slightly north of the Teton Reservoir turnoff, which makes a good basecamp for riding over this pass.

This first part of the road is the most stunning, I think. Looking up the stark valley the road can be seen it bits and pieces, stacked up on top of one another. But this is not a steep mountain road, winding back and forth. Instead these are all just slight changes of direction. But in the crisp morning air the distance is so forshortened, that the scene looks very steep. The lower part of the road passes a few small lakes, which must have made the trail incredibly attractive in the 1800s, surrounded by such a dry landscape. The wild horses I encountered a short distance up the road from here seemed to like the area too.

Marshall Sprague describes in his book "The Great Gates" his difficulties trying to locate the pass. Today it is much easier. There is a pass marker at the summit. Without that sign the exact location of the pass really is very hard to pin down. It is all very confusing. The pass is on top of a slight ridge, but the road runs along the ridge. Looking at the two gentle valleys on each side, you can discern a slight saddle in the sage cover to the south. The floor of the small valley on the north side seems to keep rising towards the west. But then - behind it the Continental Divide is about to split into two on top of the ridge at the appropriately named Separation Ridge. This is the start of the Great Divide Basin (also called Sweetwater Basin).

The elevation given for the summit varies a lot. The sign says 7532, the de Lorme map labels it with 8366. So I am going with what my gps says, which is 7620.


From West. Past the pass, the road clings to the north side of the stark U shaped valley, going over several dips and climbs, that could just as well be a pass top. But the highest point is actually at the pass by a very small margin. The road descends in bits and pieces to a bridge across Muddy Creek. Again that amazing sight: plenty of water in this apparent dessert. The drop from the top is just barely 500ft, the minimum I need to include it as a summit in these pages.


At this point the historic route turns right down Muddy Creek. Today this goes over private land that is gated off. The road there is completely overgrown. Marhall Sprague in his comprehensive book "the Great Gates" describes how to locate Bridger Pass by coming up this way from downstream Muddy Creek, passing along the site of the old Sulphur Springs stage coach station. If you want to do this today you have to break the law. So today it is easier to find the top, but it is impossible to follow the entire route.


To continue riding from this point today, the only option is to cross Muddy Creek and then climb towards one of the BLM3328 Miller Creek Road summits

History


The Fur Trapper period: This is not a pass that is difficult to cross. But that only adds to its historical significance in carrying streams of pioneers and immigrants.


William Henry Ashley founded one of the earliest Fur Trading Companies in the American west: the Rocky Mountain Fur Company. By the time he finally took to the mountains, in order to see just how many furs the trappers in his employment had been racking up, Jim Bridger and others trappers knew this route well. It was on their route west, onwards to South Pass.


The Overland Trail: ( < Wasatch Divide | Rattlesnake Pass ) But later the 1840s, Mormon emigrants and supply good trains traversed this area to the north over the Oregon Trail, even though it was a detour. After that they had to head south again from South Pass and the Mormon Trail. Then in 1850 Howard Stansbury "explored" a new supply route with his guide Jim Bridger between the east and Salt Lake City, and rediscovered the attractions of the pass that now carries his name. Comparing these two routes, it seems surprising today, that the dry dessert was used, instead of the comparative oasis character of the Bridger Pass crossing.

And it also took Stansbury's active will to make this route common. His orders were to use the Oregon Trail as far as South Pass. But after having explored the area for about a year, he became convinced that a more southerly route was more advantageous. They left the "civilized" Oregon Trail behind after having left Utah over the Wasatch Divide. The first part of the route, passing Pilot Butte behind today's Rock Springs and following Bitter Creek and its brackish water was very demoralizing to the party. But then - so much bigger was their joy and adulation when Jim Bridger led them up Mud Creek and over Bridger Pass. Their writing contain phrases like: "visions of home and all its joys danced before us in vivid brightness" and "none but those who have experienced it know how much companionship there is in the gentle murmur of a flowing stream." ... With light hearts and buoyant spirits they galloped down the grassy slopes.


From there they continued downstream along Little Sage Creek, which is the view from my camper, parked at one of the campsites at Teton Reservoir, and onwards to the next important pass on the Overland Trail, with the appealing name Rattlesnake Pass. This part of the old Bridger Road today also goes over private ranch land and is gated. It also looks like it would make a great ride.


As time passed, this little wet crossing in the dessert became more important than even South Pass. In 1861, when Indian attacks presented problems for Oregon Trail travel to the north, the Overland Trail and with that Bridger Pass practically replaced the Oregon Trail. In the same year the COC company ran a stage route over the pass. All of this lasted only till the Union Pacific laid rail, only one ridge distant to the north of here.


Fremont: (< Rattlesnake Pass | Carson Pass >) Fremont's second expedition started out over a well established route. This was very different from his stated objective of exploring passes for emigration and military use, situated between Cochetopa Pass and South Pass. Instead, his path from Rattlesnake Pass continued on the west side of the North Platte over Bridger Pass, onwards to the Oregon Trail. His major discoveries and objects of exploration were much further west than stated, among them Carson Pass in California and the Wind River Range.


Montana Gold Rush ( < Cache La Poudre Pass | Bannock Pass > ): When Gold was found in Bannack Montana, many Denver area miners migrated to the new gold rush area. Their route was over Cache La Poudre Pass (today's US285 between Fort Collins and Laramie) and Bridger Pass to Fort Bridger. From there the direct road would lead over the old Medicine Pass road (comprised of today's Bannock Pass and Sheep Creek Divide) directly to Bannack.

A Dayride with this point as intermediate summit is on page: BLM3328 Miller Creek Road(sh)