BLM3328 Miller Creek Road southern summit(sh)
South of Rawlins the Continental Divide is up for all sorts of tricks, like splitting in two towards the north, and then enclosing the Great Divide Basin within it. This shoulder summit is a dozen miles or so south of this point. Here the continental divide already seems like an entity, that is unable to make up its mind on where it wants to go. It follows a confusing line over a sage covered maze of high, bare hills. Technically this is the extreme southern end of the Sierra Madre area. I think that this road has some of the best views of the entire area - if you like dessert scenery. It is easily rideable and without any washboard surface. The section described here is not graveled at all, but a natural hard pressed smooth dirt - just a few slightly very short, and just ever so slightly sandy stretches. Another positive thing is that this summit combines easily with
Bridger Pass
in a loop ride.

1.(mile00.0,7090ft) START-END NORTH: road crosses Muddy Creek and connects with Bridger Pass profile
2.(mile07.5,7420ft)Cow Creek (or Butte) turnoff on right, just before road doubles back to north and starts climbing
3.(mile14.3,8100ft)road to Rendle Butte joins from right
4.(mile15.7,8170ft)TOP
5.(mile17.0,7970ft)low point, before profile turns left on McCarty Canyon Rd
6.(mile19.0,7760ft)intermediate high point, south of Rawlins Reservoir
7.(mile20.0,7600ft)START-END SOUTH: low point at Rawlins Rservoir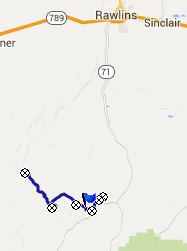 Approaches

From West. In order to get to the low point on Muddy Creek, and stay off private land today, you have to first cross Bridger Pass (at least without crossing more extreme mountain routes).

Here a peaceful puddle called Mud Creek provides cool relief from the possible heat. The road follows Mud Creek up valley, climbing in little bits and pieces in a landscape, that - for now - may seem a bit more dreary than the shapes of Separation Peak along Bridger Pass.

This relaxing "rolling along" riding ends at the junction with Cow Butte Road. A short steep section is steep enough to make me get off my bike. The road doubles back to the north and the increased height now provides a dramatic vantage point on the sun and shade patterns over Separation Peak, and another nearby butte, trapezoidal as a coffin seen head on. This trapezoidal butte is Miller (Creek) Butte and serves as a prime landmark for serveral rides in this area.

After more fine views the road joins BLM3328 Miller Creek Road. Both sides lead to summit points. This one stays right (to the south) and is slightly lower than the other one. Since the dip between them is less than 300ft, I am calling this a shoulder summit. The Continental Divide Trail follows the road from the junction southwards, as well as the Continental Divide itself.

At the top the viewshed to the Sierra Madre Range opens up: a dark lenticular shape of a tree covered ridge, and way in the distance to the north: the first mountains of Colorado

From South. (described downwards) A short, fairly steep descent leads around the head of Sage Creek Basin. This stretch has the most far reaching vistas. Shade from clouds make a muddled patchwork pattern on the sage hills. It stretches from here all the way to the Laramie Mountains in the east. This far vista lasts downhill to the junction with Mc Carty Canyon Road.

If heading back north from here (as the profile does) the road descends a bit further to the Sage Creek Reservoir turnoff, before climbing back up to the Continental Divide on Wy71

If instead turning south, the descend lasts to an isolated farmhouse in an interesting location, the Mc Carty Ranch.

Dayride with this point as highest summit:

COMPLETELY UNPAVED OR HARD MEDALLED:

( < Battle Lake Pass | BLM3422 Hydrology Road s(u) > )
BLM3328 Miller Creek Road south(sh) , Wy71 - CR573McCarty Canyon Rd(sh) , Bridger Pass : near jct Wy71 - Mc Carty Canyon Rd > Wy71 north <> out and back to Teton Reservoir > Bridger Pass Rd west > Bridger Pass > BLM3326 Muddy Creek Rd south > BLM3328 Miller Creek Road south > BLM3328 Miller Creek Road south(sh) > Wy71 - CR573 McCarty Canyon Rd(sh) > back to starting point: 59.7miles with 4220ft of climbing in 5:51hrs (Garmin etrex30 m5:15.7.20).
Notes: The Mc Carty Canyon Road meets FR401, just slightly north of the FR401 Sage Creek Rd summit, without going over it. Therefor I'm calling this a separate shoulder summit point. - On the entire section not including FR401 I saw a total of two other vehicles, both official BLM cars. One was parked. The other one was in the process of parking at the Muddy Creek bridge, and the friendly public servant offered me water as well as a map of the area. - Thanks !