Canyon Ridge Trail -1 s(u)

This trail was mentioned to me by a National Forest worker and a local mountain biker as being a great loop bike and hike possibility.I think the emphasis should be on the "hike". The trail runs on a steep foothill ridge in the North Cascades, immediately adjacent to the Canadian border. Both ends of the trail have a completely different character.

1.(00.0m,1040ft) START-END SOUTH-1: jct Mt Baker Rd - Canyon Creek Rd.
2,(07.5m,2170ft)route crosses Canyon Creek: jct FR31 - FR3140
3.(14.9m,4420ft)Canyon Ridge Trail western trailhead
4.(19.9m,5400ft)TOP: Canyon Ridge Trail -1 s(u)
5,(23.2m,5360ft)Canyon Ridge Trail -2 s(u)
6.(26.0m,4300ft)Canyon Ridge Trail eastern trailhead
7.(33.3m,2170ft)START-END SOUTH-2: same as point 2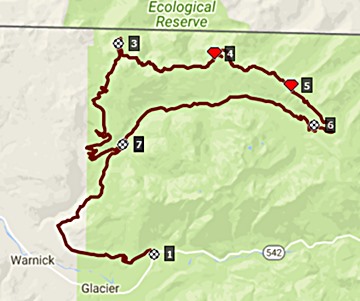 Approaches

From South-1. The first part of the profile is a wonderful narrow paved road, which approaches the loop part, which is comprised of various more arduous surfaces. Canyon Creek Road is the most pleasant part of the ride. In order to start from a low point, I also included a small part of the Mt Baker Road.

After this nice warm up climb the Canyon Creek Road eventually crosses Canyon Creek, and that is where the loop starts. The profile first goes up FR3140, a long smooth climb. At one point the trees open up and a single short view of snow covered peaks in the North Cascades opens up behind the road barricades. Later a few views to the north show ridges used by the timber industry and snow mobilers in the winter.

Near the top of this road a single prominent sign announces the Canyon Ridge Trailhead, followed by a smaller sign that points the way down into the wild flowers. Could this be all downhill from here ? It certainly looks that way from here. - a fatal misconception - although the trail looses almost 500ft to arrive in a small basin of thick forrest, a muddy puddle of a lake, weeds and decaying wood.

The next little climb stands out in my memory for being a tough hike in a wild forest on a deeply rutted trail, that makes even pushing a bicycle difficult - often you have to carry it. But the main reason it stands out in my memory is really because it was the first pitch that fits that description. There would be many more yet to come, than I care to remember. At several point it is necessary to carry the bike around a detour to the "trail", because it is impossible to get enough foothold to get the bike up the deep rut. From the tracks it is apparent that the only other user in recent time was a motorcyclist. How he got his bike over or around the many dead trees across the trail I will never know.

What the trail lacks in views and comfort it makes up in mosquitoes. It seems like clouds of them try to land on my eyelides, apparently mistaking them for landing pads. I must have encountered this many mosquitoes before at some time at some place. But never have so many tried to land on my eyelids. Maybe this has something to do with all the moss on the trees. Perhaps they like it there too, and eyelids resemble moss. Of course they don't all fit on this small helipad, so they have to be satisfied with the rest of my limbs, which offer a much larger area to be bitten.

After too many bike-carrying pitches and mosquito bites than I care to remember, the trail arrives at a series of two high meadows, bathed in wild orgy of colorful wildflowers. In the distance clouds partly unveil a series of vertical peaks, a regular procession of rocky teeth set into the landscape. On the other side snowy Mt Baker rises above it all with its unmistakable shape. For some time I am tempted to think all that carrying and scratching was worth it for this moment. But in the end - this one was just too hard under these "trail and mosquito conditions". This meadow turns out to be the highest point on the route.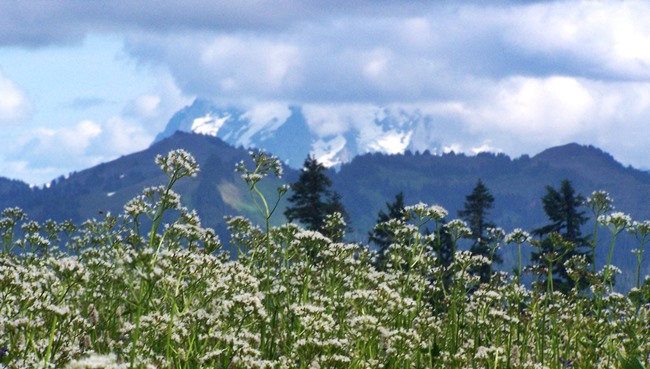 From South-2. (described downwards). The "downwards" in this case is a relative term. Yes - the endpoint of the profile will be lower, but there is still much climbing ahead, enough to climb a second point that fits the summit definition.

So let's enjoy the moments on this wild beautiful summit meadow just a minute longer. The enjoyment moves into the back of my head, as soon as I realize, that I don't see the trail exiting from this meadow. The meadow extends quite a distance to the west, and of course you want to see views from there. The trail however exits towards the north, where a Canadian town is visible in the valley below - definitely a counter-intuitive direction to go. There are no signs or cairns anywhere to point the way. The only thing that works is retaining a cool head and looking for the trail below in all directions. It is not difficult to see.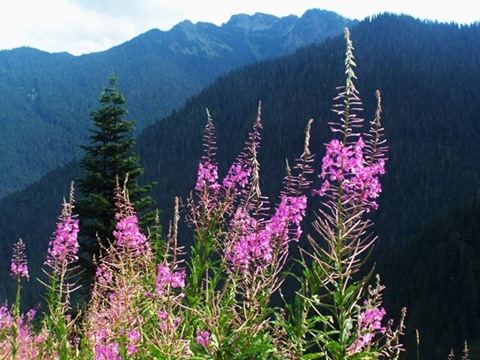 But the torture on the trail continues after the short downhill pitch, although this side of the trail is much more scenic. It becomes more and more apparent that the trail leads out onto an ever narrowing ridge towards high peaks in the National Park. The area is still deeply forested, but now the forest often acts like a frame onto grand vistas in both directions. Without a gps it is is easy to loose a sence of direction, as the trail meanders about in wild swings. The dark line representing the road on the map, draws tantalizingly close only to recede into the distance again. The second summit point is not intuitively obvious because it is preceded and followed by so many other ups and downs.


All ridges have to end sometime, including this one. But it has one more trick up its sleeves. The vista ahead is of a huge dip leading up to another summit point. Even though the trail conditions have improved drastically, so that even somebody as technically impaired as me can ride substantial stretches, I am beginning to wonder if I will make it even to the trailhead before nightfall.


But the trick turns out to be - a trick. Just past the low point on this dip the road becomes visible below on the right. The visible trail on the opposite ridge turns out to be part of the Boundary Ridge Trail. The trail takes a very roundabout way to get to the trailhead. Here close to trail's end, there are even a few signs, the first ones since the trailhead on the west side.


Supringly this trailhead, wich is located close to the valley bottom, is only 50ft lower than the western trailhead on the ridge. The last part of the trail is much more rideable. If starting here, it gives a completely unrealistic picture of surface and landscape yet to come. I even make it back to the starting point just at nightfall, thanks to a lightning fast descend on a uniformly sloping, smooth dirt road in the valley, followed by the paved decent on Canyon Creek Rd.





cLiCk on image , arrows , or thumbnails to advance slideshow


Dayride with this point as highest summit:

PARTIALLY PAVED / UNPAVED / HIKE AND BIKE TRAIL

( < Mt Baker Hiway | Barlow Pass > )
Canyon Ridge Trail -1 s(u) , Canyon Ridge Trail -2 s(u) : about a mile up Glacier Creek Rd > down Glacier Creek Rd > up Mt Baker Hwy > up Canyon Creek Rd > up FR3140 > Canyon Ridge Tr west > Canyon Ridge Trail -1 s(u) > Canyon Ridge Tr -2 s(u) > down FR31 > down Glacier Creek Rd > Mt Baker Hwy west > up Glacier Creek Rd back to starting point: 46.2miles with 7910ft of climbing in 8:19hrs (garmin etre30 m5:17.8).
Notes: After branching off Mt Baker Hwy I never saw another person or vehicle of any kind - probably because Canyon Creek Rd was closed to traffic because of a road slough. Just to reinforce the "closed" status there are more road blockades, this time for no apparent reason on FR31 and FR3140 (August 17).