Barlow Pass

Both Washington and Oregon have a Barlow Pass, and each one has its peculiarities. When I first saw this Barlow Pass on the map, I thought, that after weeks of searching, I finally found a nice day loop ride over an interesting summit - and I did - it makes for an interesting century loop. But these are the peculiarities: a substantial part of the southern approach is unpaved. It stays in the forest the entire time and you never really see any mountains, except for a few views framed by trees along the road.

Signs in the area refer to this as Mountain Loop Highway, even if part of it has a gravel surface.


1.(00.0m,0550ft)START-END NORTH:jct Wa530 - Mountain Loop Highway, Darrington
2.(08.9m,0990ft)jct with North Sauk River Rd on left
3.(09.0m,1030ft)jct with FR23 to Rat Trap Pass
4.(23.0m,2361ft)TOP: Barlow Pass
5.(28.0m,1720ft)Big Four Mountain Picnic Area
6.(53.5m,0410ft)START-END SOUTH: Granite Falls, West Stanley St downtown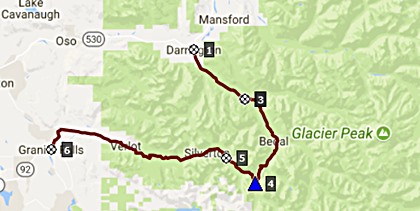 Approaches

From South. Actually the best views of high peaks are from far below and far away. Between Oso and Darrington a few ice capped fingers and horns can be discerned in the far background, behind the gigantic tent like shapes of greenhouses and barns. This road has an intermittent shoulder and heavy traffic on summer weekends.

By most accounts something resembling a mild climb starts in Darrington, where the "Alpine Loop Highway" begins. These first 7 miles are the best part of the ride. Past that the pavement disappears and is replaced not by broken pavement, as is often the case in this state, but by gravel with intermittent washboard. It seems like the climb should start any minute now. Then the road crosses the Sauk River and now it must really start, if ever. But it is really over before it ever starts. On top of the pass the forest is just as mysteriously deep and seemingly impenetrable as further down. On summer weekends the many trailheads are overcrowded with parked cars.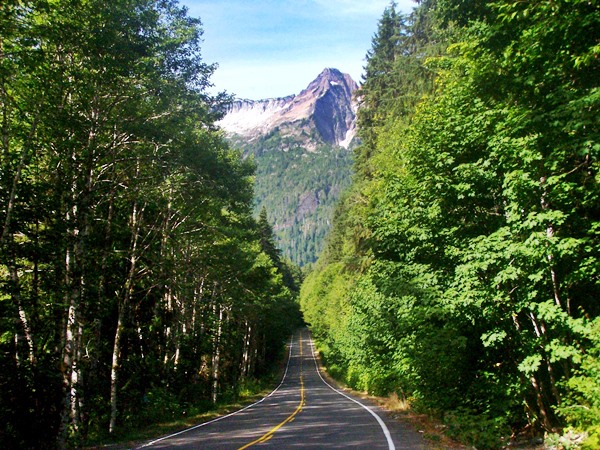 From North. (described downwards). At the summit the road changes from a curvy dirt road to a highway with all major curves removed. It makes this transition without any intermediate stages. A nice view of vertical mountain walls from the meadow below can be enjoyed at the Big Four Mountain picnic area. Otherwise map makers have filled in the nameless space with names, that refer to various solitary houses in the nearby forest They have used names like Silverton, Verlot and Robe. Actually the last destination, Robe, must have more than a couple of huts hidden in the woods, because at this point the ride has far too much traffic to be comfortable and there is no shoulder. But in my case most drivers except one were very considerate.

The profile ends in Granite Falls, wich even has a bike store of sorts, actually two bike stores. Both deal with motorcycles and one also deals with bicycles.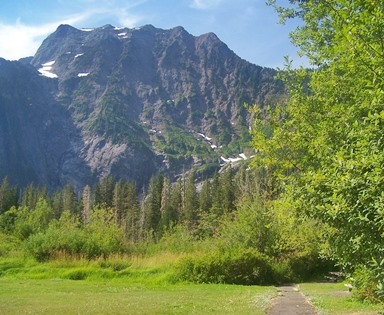 Dayride with this point as highest summit:

PARTIALLY PAVED / UNPAVED

( < Canyon Ridge Trail s(u) | Rat Trap Pass > )

Barlow Pass : half a mile up FR22 from jct FR22-Mountain Loop Highway > down FR22 > Mountain Loop Highway south > Barlow Pass > Granite Falls > Jordan Rd north > Arlington Heights Rd west > 115th Ave north > Arlington-Darrington Rd west > Oso > Darrington > Mountain Loop HIghway south > back to starting point on FR22: 97.2miles with 4560ft of climbing in 6:57hrs (garmin etrex30: r4:17.8.20)
Notes:would be a nice century loop with a small detour; broken spoke on the south side of Barlow Pass, due to the rough north side - otherwise a perfect day with nice temperatures.