Ut24 Summit: Loa - jctUt62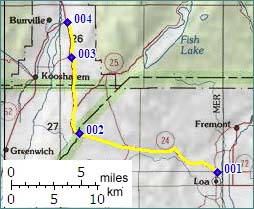 This summit on Ut24 is located on the plateau above the canyons of Captiol Reef National Monument. The scenery is quite different, here above the monument. Far above the intricately carved cliffs a wind swept plateau forms the high point of the summit.
There is a temptation to extend the profile on the eastern side below Loa to include the great slope down through the Waterpocket Fold. I decided not to include that part of the profile since Loa is separated from that slope by a series of low rolling hills. That climb is included in the Ut12 summit Capitol Reef - Boulder.

The summit is marked with a pass symbol on old Touraide Maps. Topo maps also label the spot with the word summit. Even though the summit sign states 8385ft, the topo map clearly shows the road crossing the 8400ft contour and labels it 8410ft.

1.(7100ft,mile00) START-END EAST: Loa: intersection of Ut24, Ut72
2.(8410ft,mile11) TOP: summit
3.(7320ft,mile17) START-END WEST: junction with secondary road to Koosharem - Ut24 summit to Sigurd.
4.(6980ft,mile20) START-END WEST ALTERNATE: jct: Ut62 to Koosharem - Ut24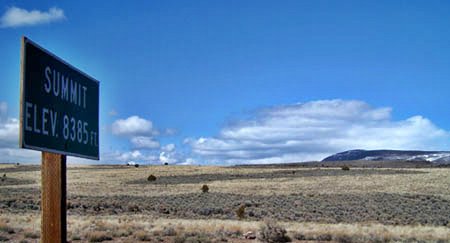 Approaches
From West. From Loa Ut24 hops across a few tundra or dessert loaves - depending on the season - with the ease of a veteran plateau goat, in order to climb the Awapa Plateau. Here the road becomes straight as an arrow as seen on a map, but a roller coaster as seen in profile. The top is a rather bleak spot. Several turnoffs lead to higher spots on the Fishlake Plateau to the north.
From East. The approach is described in a downward direction. Just past the summit Ut25 promises even greater relief from summer heat, when climbing the bread loaf shaped mountains above Fish Lake. Ut24 on the other hand, makes a 90 degree turn to the north and heads down. The curiously shapeless tops of the Sevier Plateau make up the backdrop behind Koosharem in the valley below. The road traverses down into Grass Valley, looking like it has every intention to peter out into a high plain. But instead it heads for another labeled summit, albeit a small one. At the junction with Ut62, the profile connects to: Ut24 summit: Sigurd - jctUt62.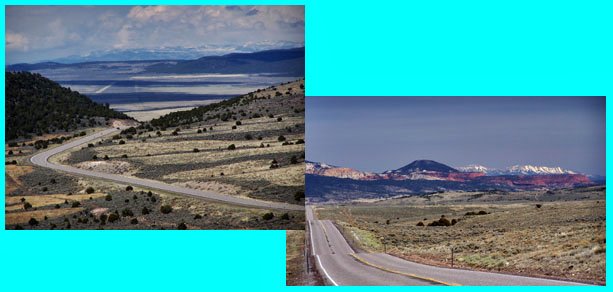 Dayride. A long dayride circle over Hogan Pass, the Ut24 summit Loa-jctUt62, another Ut24 summit Sigurd-jctUt62, returning over the Meadow Gulch Divide measured somwhere over 116 miles and 7500ft of elevation gain in over 10 hours. More details on the Meadow Gulch Divide page (m2.6.4.18).