Soapstone Pass

Soapstone Pass leads across rounded Uinta foothills to connect the western approaches of two paved passes,
Bald Mountain Pass
and
Wolf Creek Pass
. The entire road is a gravel surface that takes some effort to ride. It is named on National Forest maps.


click on profile for more detail

1.(6490ft,mile00) START-END NORTH: Kamas, jct: Ut150 - Ut32
2.(7160ft,mile07) Yellow Pine campground
3.(7170ft,mile15) profile turns right onto dirt road into Soapstone Basin
4.(9077ft,mile21) TOP: junction with forest road on left
5.(8300ft,mile23) junction with Wolf Creek Pass paved road. Profile continues downhill to right
6.(6560ft,mile39) START-END SOUTH: Francis, jct Ut35 - Ut32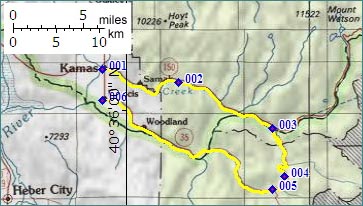 Approaches
From North. The turnoff from Ut150 is signed as Soapstone Basin. After passing a number of camping facilities the road traverses steeply through dense forest to the east. As it emerges into a a clearing, the summit section can be made out above as an expansive meadow. The meadow is followed by a grassy ridge, rounded as a cresting clay roof shingle.

Down South. It's a quick descent through trees with a few switch backs near the end, before joining the Wolf Creek Pass road.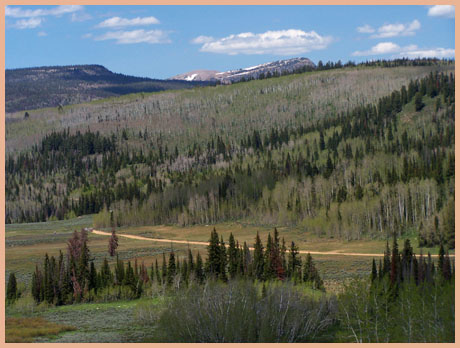 Tours
Dayrides (paved+unpaved) : A 9 shaped ride starting near Kamas, going to the top of Bald Mountain Pass, then turning around and taking Soapstone Pass to Wolf Creek Road, returning to the starting point via Francis and Kamas measured 64 miles with 5800ft of climbing in 6:1 hours (m3:07.06.10).