North Creek Pass

(aka Abajo Loop Road Summit)

In a similar manner that international tourists, standing at Grand Overlook in Canyonlands National Park, observe that the Abajo Mountains are lower than the La Sal Mountains, early Spanish explorers did too. But naming them the "low mountains" (abajo means low) may not exactly have hit the nail on the head. It is true that Abajo Peak (11360ft) is close to 1500ft lower than Mount Peale (12721ft) in the La Sals. But then - the Spaniards couldn't know that the yet to be built Abajo Loop Road would someday reach almost two thousand feet above the La Sal Loop Road (8320ft).
Admittedly this comparison is really between apples and oranges, since the La Sal Loop Road is paved (at least by Utah standards) and the Abajo Loop Road is clearly not. But even comparing the Abaho Loop road with the highest good dirt road in the La Sals - this would be Geyser Pass at 10540ft - North Creek Pass still is 800ft higher.



click on profile for more detail

1.(6000ft,mile00) START-END SOUTH: Recapture Dam on US191, north of Blanding
2.(6170ft,mile03) profile turns right onto Pinyon Ridge Road, and right onto Blue Mountain Road, shortly after that
3.(7810ft,mile14) left goes to Causeway. Profile stays right
4.(9690ft,mile23) intermediate summit on Jackson Ridge
5.(9140ft,mile24) intermediate low point
6.(10312ft,mile28) TOP: North Creek Pass
7.(8500ft,mile31) profile turns right onto paved Ut49 to Monticello
8.(7060ft,mile36) START-END NORTH: Monticello, jct Ut49 - US191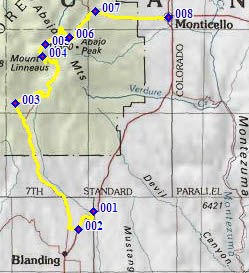 Approaches
From South. In order to illustrate a loop ride, I chose a point on US191 north of Blanding, where it crosses the Recapture Reservoir. US191 south of Blanding actually starts from a lower elevation. To start the ride you have to get onto Blue Mountain Road in some manner. This is long long ridge that gradually creeps up a scenic shoulder of Mount Linnaeus, the lower western peak, of the two dominant Abajo Peaks. Pavement ends where the road crosses into the Manti La Sal National Forest. As the road contours around to the east, and dips through drainages, there are good framed views of Mount Linnaeus and its stratified rocks. Crossing Jackson Ridge to the east of this peak, gives all appearances of being the major pass crossing of the day. This lower crossing at point 4 above also has the best views and most of the picture below are taken near that area.. Signs inform that Blanding is 22miles away, while Monticello is only 14 miles distant. Furthermore there is a Skyline Trailhead (a very popular name in Utah) 1.5 miles to the west.
However the highest point of the ride on North Creek Pass is still ahead, and the next 14 miles ahead to Monticello will probably take longer than the 22miles back to Blanding, especially if snow on the road makes travel difficult. If there are any snowy patches at all in the shade on the short descent to the low point between the two summits, there will be much more snow to come. As you start to gain altitude again, this time between Twin Peaks and Horsehead Peak, you can see the size of the climb ahead by looking at the apparently straight diagonal that cuts across Horsehead Peak. The path between Twin Peaks and Horseheah Peak is a named pass too. The trailhead sign is clearly labeled and calls it Spring Creek Pass. It is closed to bicycles from Oct11 to May15. Chances are there is snow on it during that time anyway. This second climb seems to have much less fall color than the intial climb to Jackson Ridge. The view from the top is limited to Jackson Ridge.

| | |
| --- | --- |
| | |
| | |
| --- | --- |
| | |
| | |
| --- | --- |
| | |
From North. (described downwards) If there is a patch of ice on top, it is a sign of things to come. The road for a large part stays in the forest on the bottom of the west facing slope, that gets noticeably much colder air. Snow melt takes much longer, and the snow free east facing slope is tantalizingly close in the sunshine, just out of the shade so it seems. Under these conditions, hitting pavement may seem like hitting gold. When this happens, downtown Monticello and its dining and shopping attractions (pizza, Subway sandwiches or a prepackaged morsel from the Blue Mountain foodstore) are only 4 miles away, and they are straight as an arrow and all downhill, with great distant views of the western most lonesome cones of the San Juan Mountains in Colorado.

Dayride.

PARTIALLY PAVED / UNPAVED
North Creek Pass , US191 Monticello - Blanding s(u) : Blue Mountain Road > North Creek Pass > Monticello > US191 Monticello - Blanding s(u) > Recapture Reservoir > Pinyon Ridge Road > Blue Mountain Road > back to starting point: 56.4miles with 5970ft of climbing in 5:31hours (VDO MC1.0 m3:11.10.16)
Notes: partial snow on upper northern descent, and a headwind on US191 coming back, otherwise a great October day.