Kolob Terrace s(u)

These are two understandably popular, paved climbs, connected by a rolling dirt road over the top of a high plateau. In the process the road climbs almost 6 thousand feet between the high and low points of the profile. But it does so in stages. Along the way are some of the more remote vistas of Zion National Park, that can still be seen from a road, and more, different landscapes of colorful cliffs to the north.


01.(00.0mile,3330ft) START-END WEST-1 :low point north of Toquerville
02.(04.9mile,3760ft)route goes onto I15 in Anderson Jct
03.(34.8mile,5930ft)profile leaves I15 at first Cedar City exit
04.(42.0mile,6490ft)route turns right up Right Hand Canyon Rd
05.(46.8mile,8220ft)jct with alternate unpaved approach through Cedar City hights development
06.(50.1mile,9150ft)approximate end of pavement
07.(55.7mile,9530ft)TOP
08.(67.1mile,8129ft)south side of Kolob reservoir, start of pavement
09.(90.8mile,3570ft)route turns right onto Ut9
10.(98.0mile,3250ft)La Verquin
11.(98.9mile,3330ft) START-END WEST-2: same as point 1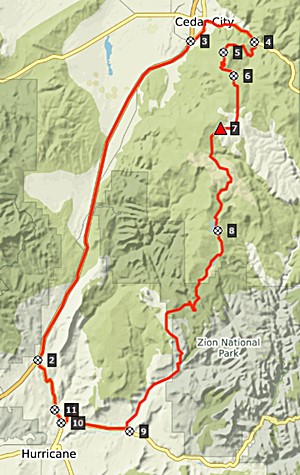 Approaches

From West -1: I15 between Anderson Jct and Cedar City gains an amazing ~2800ft. This is not something that you would suspect if you do not travel the road under your own power. This was at the end of my loop ride, and I kept waiting for the final downhill into Cedar City at the end of my ride - in vain. Since I always start the profile at a low point I am going to start it in Anderson Jct.

In Cedar City the profile enters the colorful rocks of Cedar Canyon - a fairly busy road on a weekend. But it is about to get better with the turnoff onto Right Hand Canyon Road. The signs and the turnoff are easily overlooked, even on a bicycle. This curvy, but wide road with very little traffic climbs up the Cedar Mountains in the Hurricane Cliffs, and soon the word "colorful" makes much more sense. Quickly the panorama also takes in the lower ranges to the west and the man made grid of the world below. There is a trailhead parking lot to the C - Trail with 270 degrees of clear crisp panorama. The trail is open to mountain bikes.

But this profile climbs higher on the main road. The Mac Mansions of Cedar Highlands, which were just immediately below also become toy boxes with more climbing. The road finally climbs above a black lava field of angular blocks and reaches the plateau. Several more miles of rolling hills go by until the pavement ends and the ride becomes a fast roll on a good hard dirt road.

Yet another section starts when the trees end and the surroundings become a sweeping grass land. The road makes some wild detours in order to avoid exorbitant elevation differences by crossing canyons. The high point is reached at a 90 degree turn between two long straight sections. In the distance the cliffs of Cedar Breaks look like the landscape has frayed into orange at a rupture. It is practically at eye level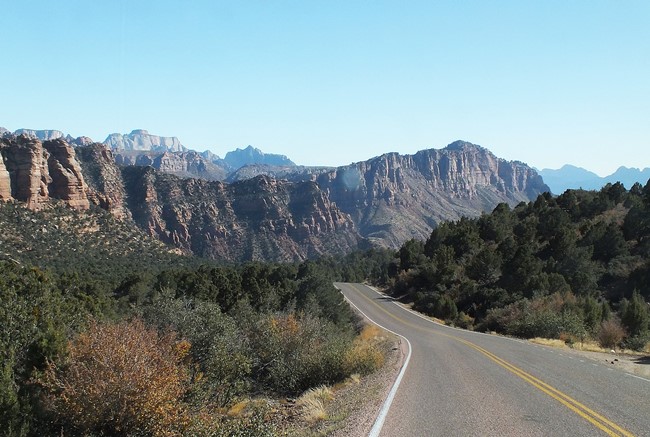 From West -2. (described downwards) Several dips and curves lead past another scenic lava field, this time on the eastern end of the plateau, and then the road starts an extended fast downhill to Kolob Reservoir. While up until now the road has been mostly smooth, this last section of nonpaved road is quite a bit rougher, and I am glad I had my Klein Mantra instead of what is now marketed as a gravel bike.


Kolob Reservoir is a pleasant lake, in a bleak high plain, compared to all the magnificent vistas that are not far away from here. Pavement starts here and with that a long descent. The more interesting and also steeper longer descends are actually closer to the bottom.


The last section of the profile on Ut9 is easily underestimated, or maybe that's just me. It takes time too, even if it does loose another 500ft





cLiCk on image , arrows , or thumbnails to advance slideshow



Dayride with this point as highest summit:

PARTIALLY PAVED / UNPAVED

( < Cedar Breaks s(u) | Kolob Canyon(ow) > )

Kolob Terrace s(u) : a short way up E High Cedar Highland Dr > down E High Cedar Highland Dr > Cedar City > Ut14 east > up Right Hand Canyon Rd > up Kolob Rd > Kolob Terrace s(u) > Kolob Reservoir > down Kolob Reservoir Rd > Ut9 west > Ut17 north > La Verquin > Toquerville > Anderson Jct > I15 north > Cedar City > back up E High Cedar Highland Dr to starting point: 103.3miles with 8500ft of climbing in 9:20hrs (Garmin etrex30 m3:19.10.12)
Notes: I had a flat on I15 just before sunset. There was still plenty of light to fix the flat. But the last 12 miles were in darkness with a full moon - otherwise perfect conditions. 4 miles are due to the out and back to the starting point of the loop .









cLiCk on image , arrows , or thumbnails to advance slideshow