Hell's Backbone Road summit(u)

A bridge - but no water flows below it. Instead each side looks out over a different canyon. The bridge crosses a narrow rock spine separating two intricately eroded amphitheaters in an area with the intriguing name, Box-Death Hollow Canyon complex, suggesting multiple ways to achieve death. The bridge is the figurative and literal high point of this ride. The route leading there is an elaborately engineered gravel road, with steep ups and downs that require climbing in a sitting position in order to get enough traction. But it's not as bad as it sounds. The gravel is worst on the upper western approach above Escalante, making a loop climbing from Boulder over the bridge, descending to Escalante is preferable to the reverse. The profile shows the paved Ut12 part of the climb appended, in order to show maximum elevation gain for such a loop.


click on profile for more detail

01.(5210ft,mile00) START-END EAST: Ut12 crossing Escalante River between town of Escalante and Boulder
02.(6770ft,mile10) profile turns left onto dirt road
03.(8390ft,mile20) first high point
04.(7820ft,mile22) low point
05.(8750ft,mile24) Hell's Backbone Bridge
06.(9160ft,mile25) TOP: point of highest altitude
07.(7730ft,mile31) low point
08.(8190ft,mile33) high point
09.(7650ft,mile34) low point
10.(8010ft,mile35) another high point and junction with Posey Lake Road on right
11.(5800ft,mile49) START-END WEST: Escalante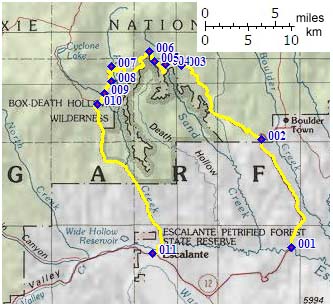 Approaches
From East. At point 2, Hell's Backbone Road leaves Ut12 ( which is covered in the Ut12 summit: Boulder - Capitol Reef ), and traverses a pleasant, forested, ranched valley. After an initial climb following Salt Gulch, the road gradually approaches the rim of the Box Death Canyons. Suddenly finding oneself at the end of a ridge with deeply eroded canyons on both sides, on a small, narrow, yet paved bridge, leading to the other side so close you can almost touch it, is a supreme surprise, which I now spoiled, because I told you about it.. "Enjoy your National Forest" states a sign in a uncharacteristically, understated way. The point of highest altitude comes soon after crossing the bridge. There are several false summits along the route. To demonstrate how high and steep they are is best left to the elevation profile.
From West. The approach is described in a downward direction. The road manages to stay closer to the edge of the canyon on this side, buy also requires climbing several steep, false summits. Trails promising "Upper Box Access" and "Upper Death Access" may sound appealing enough to stop and rest. The last false summit is at the junction with FR154 summit: Posey Lake Road. By this point the road has diverted from the canyon rim and leads downward, relentlessly, and deeply graveled. The last miles follow the lower boundary of the fold making up the wilderness area, that has been transformed into such a perfectly forbidding, rock topography. The last three miles to Escalante are paved.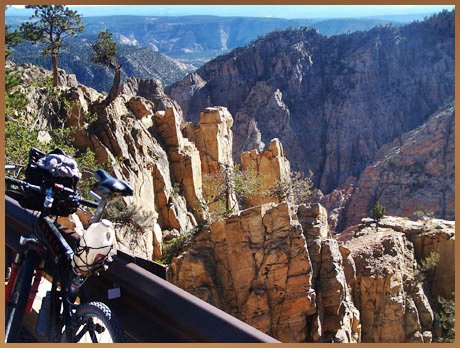 Tours
Dayrides. (unpaved+paved) A loop ride beginning in the Torrey area, going over FR154 summit: Posey Lake Road, continuing over Hell's Backbone Road summit(u) to Boulder, returning to the starting point via Ut12 summit: Boulder - Capitol Reef measured 114 mikes with 11510ft of climbing in 10:5 hours. This includes about 5 miles and 500ft climbing used to access the loop (m3:06.09.23).