Guardsman Pass
Guardsman Pass is the highest cyclable pass crossing the Wasatch Range ridgeline, not counting summits on the Wasatch Crest trail itself. Roads in the Wasatch
Plateau
to the south also reach higher altitudes. Guardsman Pass is also the most dramatic way to enter the Salt Lake City metro area. A steep dirt road ascent, that is virtually deserted when the top portion of the pass is still closed, gives way to a busy paved canyon road with a good shoulder, Big Cottonwood Canyon. From the road countless take off point to the high peaks.attract abundant visitors.

01.(5600ft,mile00) START-END WEST: downtown Midway
02.(5770ft,mile02) Wasatch State Park Visitor center, route continues right
03.(8880ft,mile10) approach from Park City joins from right at this major intersection. Route climbs ridge ahead.
04.(9710ft,mile12) TOP: Guardsman Pass
05.(9170ft,mile13) Great Western Trail trailhead to Scott's Pass
06.(8620ft,mile15) Big Cottonwood Canyon joins route from right
07.(4920ft,mile29) START-END EAST: junction Wasatch Boulevard, Big Cottonwood Canyon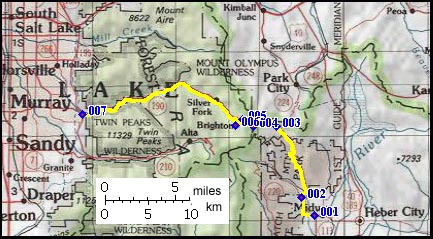 Approaches
From East. Two separate approaches meet about 1000 feet below the top. One begins in Park City and is described further down on the page. The other, starting in the lower situated Midway, is described here. Ut224 enters Wasatch State Park west of Midway. This part of the park has a civiliced, deserted feel to it when the pass is still closed., since it is off limits to ATVs.. The pavement soon ends and the road begins to climb more steeply. Almost all of the steep stretches are medalled or even paved, while there is time to relax a bit on the not so steep, thin graveled stretches. Distant views of Mount Timpanogos, a Canadian type Rocky transplanted south, slowly disappear behind a wooded ridge. Crossing a high aspen forest that has long been the site for a housing development, the final crest to be crossed becomes visible between ski lifts. At this point the approach from Park City joins. This final stretch was still closed on June/4 during 2006. But it was still readily crossable by bicycle. The top is marked with the commemoration stating "no dogs".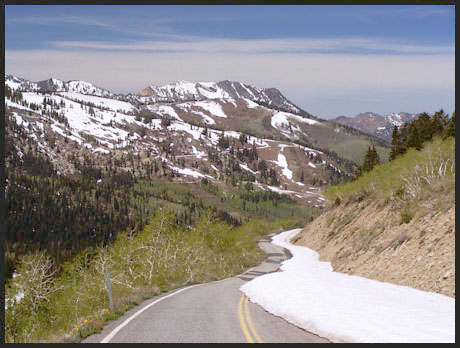 From West. The approach is described in a downward direction. The entire route from the top is paved and makes a great out and back road ride. On June/4 the conditions at the top were such that an almost through going "bikepath" had melted out on the side of the road. The high Wasatch Peaks on this side of the pass make for cooler and more scenic conditions. A few switchbacks descend steeply to Big Cottonwood Canyon, leading to the Brighton ski area. From there the long descent between alpine peaks is just the right steepness to let the bike roll on its own. An almost level stretch follows. Then the road enters a spectacular canyon with vertical cliff faces, the kind of difficult topography that is rarely traversed by a paved road in North America. At the end of the canyon Wasatch Boulervard (Ut210) is a convenient way to contour the benches north and towards Salt Lake City.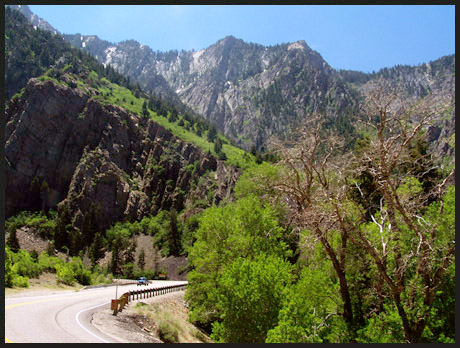 Other Approaches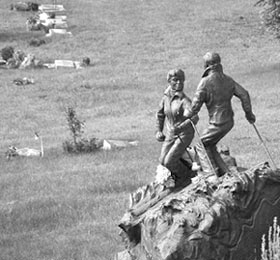 From Park City. The picture of the grave marker illustrates the economic and sentimental importance of skiing to Park City. A bike ride to Guardsman Pass illustrates the point further. I saw the marker while looking for the way. The basic idea is to head for main street, then a roudabout, 1 block on the left ( you can only enter downtown from the downvalley direction ). From there Marcek Ave. begins to climb steeply.
The entire road is already, on in the process of being - paved, to the junction with the Midway approach (June/07). This is a climb through ski condos with heavy delivery truck traffic, even when there is no snow. Where the condo city thins out, the construction to extend it up to the ridge line begins. Delivery trucks seem to be replaced by construction vehicles with tires topping out above a bicycle with rider on it. In my case a water truck was ready to wet down whatever dirt road there was left. When I finally believed I had reached the top of Park City, I passed under a bridge, that looked like the former little dirt road was about to be replaced by a six lane tollway over the bridge. "Skirunover" said the construction worker knowingly. Soon you'll be able to ski over the Guardsman Pass road like a 747 rolling over a beltway of a large city. However, the end of construction is in sight, since the top of the ridge is nearby - unless of course they construct a higher mountain. The spiritual high point of this climb was a chat with a construction worker about all this craziness, while waiting for construction traffic to clear. This is one dirt road that could use a dedicated bike path more than most city centers. The profile of this approach is included in the Wasatch Crest Trail summit(u) page.
Tours
Dayrides. (unpaved+paved): A loopride beginning in Midway, leading over Guardsman Pass to Holladay City in the Salt Lake Valley, then returning over Parley's Summit measured 82 miles with 7740 feet of climbing in 7:1 hours, using a Cateye A100 cycle computer. (m3:6.6.4)
(single track+unpaved+paved): A loop ride from Silver Crossing ( junction Ut248 - US40 ) to Park City, up to Guardsman Pass, over the Wasatch Crest Trail summit(u) down Mill Creek Canyon, returning via I80 and Parley's summit measured 64 miles with apr. 6400ft of climbing in 7:1 hours, using a VDO MC1.0 cycle computer (m3:7.6.11). Guardsman Pass is a topological shoulder on this route.