FR95 Causeway s(u)

The high traverse below Mount Linnaeus in the Abajo Mountains gives the impression of a road, originally planned to attract tourists - but they never came. I don't know why they didn't. Maybe they're too busy hanging out in Moab, or maybe I just hit a lucky low traffic October weekend. Whatever the reason, the lack of people on this road just makes it an even better bike route. If making a loop out of the high traverse, it's a good idea to be prepared for a variety of different road surfaces.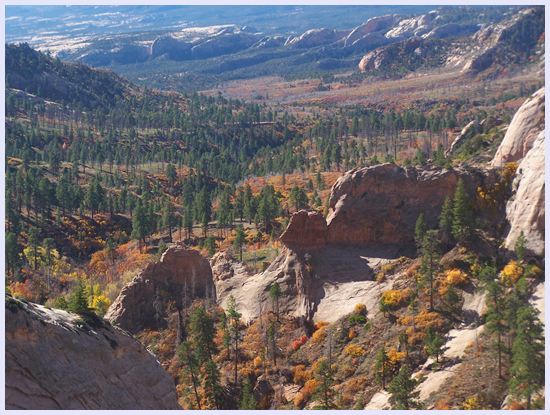 click on profile for more detail

01.(5570ft,mile00) START-END WEST ALT.: Ut91 crosses Westwater Creek, southwest of Blanding
02.(6090ft,mile06) START-END WEST: Blanding, Ut91 makes a right hand turn. Profile turns left 1 block after this
03.(7820ft,mile18) Profile turns left, from Blue Mountain Road, onto FR95
04.(7490ft,mile20) intermediate low point
05.(8490ft,mile23) TOP
06.(8230ft,mile26) Skyline Trailhead is on right
07.(8190ft,mile27) the Causeway, road crosses to Little Dry Mesa
08.(7800ft,mile33) Chippean Rocks. Profile stays right at this fork. Left fork converges back to this route after a few miles.
09.(7700ft,mile38) Profile turns left, down Cottonwood Creek Road
10.(5540ft,mile55) START-END EAST: Cottonwood Creek Road terminates onto FR92 Elk Mountain Road.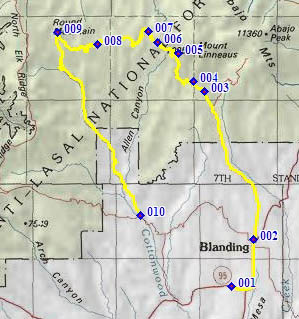 Approaches
From West. Approaching Blanding from the south, Ut91 starts to gain elevation from where it crosses Westwater Creek. On a loop ride, Blanding is an intermediate low point. Ut91 makes a right angle turn to the right in the center of Blanding. Making a right angle left turn at the next block, will lead past a school onto paved Blue Mountain Road. It leads up a western extension of the Abajo Mountains at a comfortable grade. When the road crosses onto National Forest land the surface becomes a hard dirt or medalled surface. This fast surface stays till about the summit. The turnoff onto FR95 is signed, including destinations Causeway and Gooseberry. Soon the good part starts. The road contours around Mount Linneaus with prime view onto the rock outcrops onto opposing Elk Ridge. The road reaches its highest elevation before it gets to the Causeway.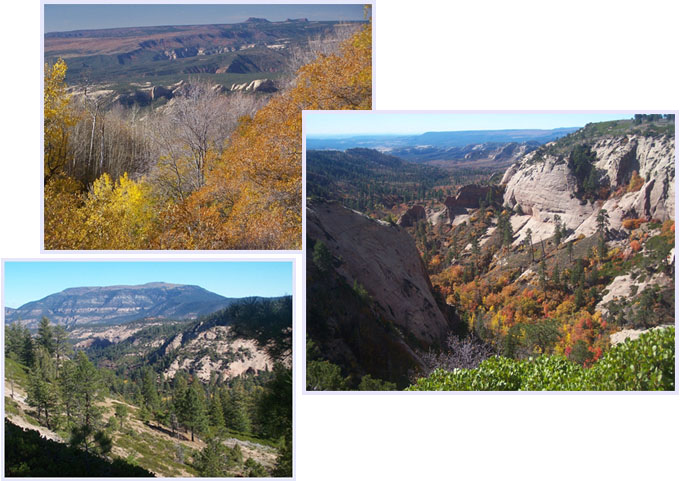 From East. (described downwards). This Causeway is a narrow landbridge that connects this plateau of the Abajo Mountains with Little Dry Mesa. From here to the junction with the Cottonwood Creek Road the road contains frequent sandy stretches. They would be hard to ride uphill, but don't force you to get off your bike downhill, well - maybe just once, when you don't pay attention. After the road makes its artful curves over a lumpy ridge at Maverick Point, the road stays a little further from the edge. This is just as well, as far as I was concerned. It was getting late fast, mostly because of all this incredible picture taking, and a lot of the loop was still ahead. Once the Cottonwood Creek Road becomes visible in the valley, descending in the opposing direction, the pace picks up considerably. A number of surfaces are encountered on the way down, almost like a test bed to see what will work, big rocks with gravel, light gravel, fresh sand, hard medalled, and best of all - just left alone. The surface tends to improve the further down you go. Cottonwood Road gives its name meaning with miles and miles of stately Cottonwood groves, protected by a shallow canyon.
The road crosses several times in and out of Ute Reservation territory, and there are numerous crossings of Cottonwood Creek. The largest one is the last one, right after crossing out of Ute territory for the last time (see also the FR88 the Notch s(u) page). Following this route upstream, the no "trespassing Ute territory", combined with the manufactured looking lake in the road may have an intimidating effect on uproad travelers. However, this is the only crossing of this sort. The road soon terminates onto FR92. If connecting back to Blanding via CR228, the turnoff is not signed. If you miss it you end up on US95 south west of Blanding.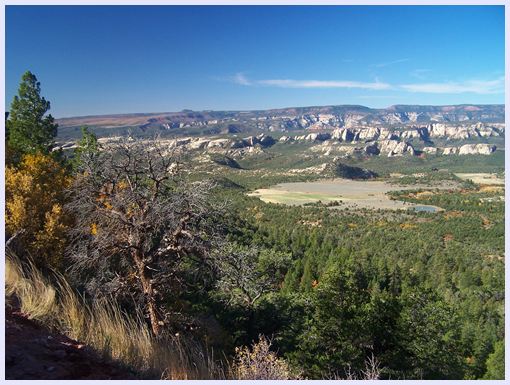 Dayride with this point as highest summit

PARTIALLY PAVED / UNPAVED

FR95 Causeway s(u), CR228 Blanding s(u) : Blue Mountain Road > FR95 Causeway s(u) > down Cottonwood Creek Road > east on CR228 > CR228 Blanding s(u) > Blanding > up Blue Mountain Road > back to starting point: 68.1miles with 6160ft of climbing in 6:17hours (VDO MC1.0 m3:11.10.17).
Notes: very windy start. I planned to turn back because of that. But one viewpoint led to the next, until turning back made no sense.