FR096 White Pine(sh)

Sevier County is very popular with ATV riders, because of the Paiute and other trail systems. To illustrate this point the tourist brochure, put out by the local chamber of commerce, has this quote between two pictures of ATV riders, roaming through the woods: "When I die - bury me on the Paitue Trail, so when my husband hits a bump, he'll think of me". - Oh well, nobody every accused ATVers of being "sensitive new age guys".

Luckily bicycles are also still allowed on these roads and trails. This particular summit is on the Paiute trail. But here it is really just a regular dirt road, and during my traversal of the route during a Monday in June, I only saw two other travelers along the route, not counting the first two miles near Richfield, which is very busy. The route climbs the Pavant Range and then follows it, some distance to the east of the ridge line.



click on profile for more detail

01.(5350ft,mile00) START-END SOUTH: Richfield, jct US89 - Ut119
02.(9470ft,mile15) profile stays right on FR096
03.(9690ft,mile16) TOP: highest point on road, just east of White Pine Mtn
04.(9640ft,mile17) road on left goes to Fillmore, profile stays right
05.(8650ft,mile20) intermediate low point
06.(8780ft,mile20) intermediate high point
07.(9180ft,mile26) improved road on left goes to Fillmore
08.(9390ft,mile27) FR102 (sh) Pavant Range
09.(9330ft,mile28) road on left dead ends at Coffee Peak; profile stays right down Willow Creek Canyon
10.(5860ft,mile38) jct with US50; profile turns right
11.(5350ft,mile41) START-END NORTH ALT: jct with Ut256 to Aurora; profile stays on US50
12.(5160ft,mile45) START-END NORTH: jct US50 - US89, just north of Salina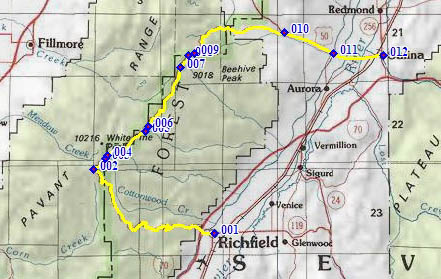 Approaches
From South. I didn't see any signs in Richfield for the start of this dirt road climb. The road cut is also not visible from town. But it is still easy to find. At the jct of US89 and Ut119, the major intersection in town, one turns west and then crosses below I70. The road seems to end at the water tower, but once there, it becomes apparent that it continues - forever you might say.

A steep climb through juniper dessert and rocks leads to a first high point. After the road drops down into a a low ravine, the view of the steep western dropoff on Mount Terrill (11548ft), on the other side of the Sevier Valley, disappears. At the first intersection, which is elaborately signed, the profile stays right, and is now on the Paiute Trail, here a regular dirt road, slowly winding upwards through low ravines.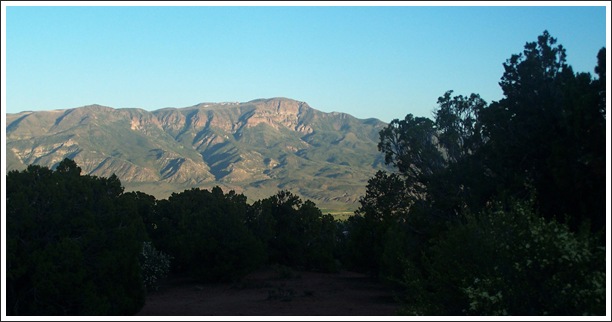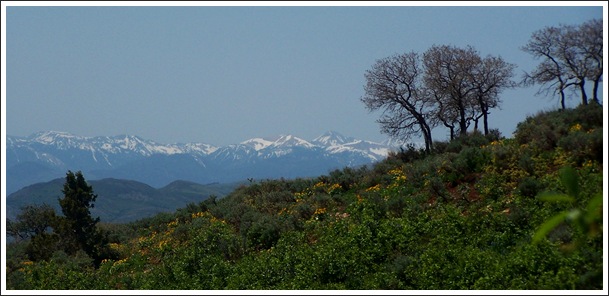 top: Mount Terrill from lower part of FR096
bottom: Tushar Mountains in the distance
The Tushar Mountains to the south appear as snowcapped background to isolated stands of Juniper trees, as the road winds above treeline on a breadloaf shaped mountain. The road climbs the ridge line, and also comes to the next intersection, again elaborately signed. To the left are dead end roads to Sunset Peak, Devil's Armchair and other attractions. On the other side of the ridge is also White Pine Peak, another oval breadloaf, with an antenna on top. Staying right at this intersection, the road quickly reaches its highest point in the forest.


From North (described downwards). There is no view here, but just a few feet lower the road emerges from the forest and presents Sevier Valley in all its hazy beauty. To the left a road climbs over a shoulder of White Pine Mtn and descends into Fillmore, reaching a slightly higher elevation. During my traversal, there was still enough snow on it, to force one truck driver to turn around.

It looks like from here on it's downhill, traversing downwards along a straight ridge. But actually this is not true. There is much riding and also climbing still ahead. Signs along the roadside allow measuring progress on the map: Hans Ridge, Chokecherry Canyon, Trough Canyon, Bean Canyon, Paradise, and many more named landmarks, without any signs of humans. If you would try to find them all on the map, you would never have time to complete the ride.

As the road winds around a red ridge cropping out of the forest, it becomes clear that another summit is ahead. The route seems to wind around Beehive Peak, as if contouring along the seats of an amphitheater. For all I know this peak could be the prototype for the beehive in the "beehive state" road sign. It looks exactly like it. The second summit comes just before the jct with a dead end road to Coffee Peak.

From here a fast descent, traversing along a forested ridge, aims for US50. It also goes through a section of dense pine forest, rich with shade, the only ecozone of this type along the route. Rather than continuing to follow the Paiute Trail, the profile aims for US50 and goes all the way downhill to Salina.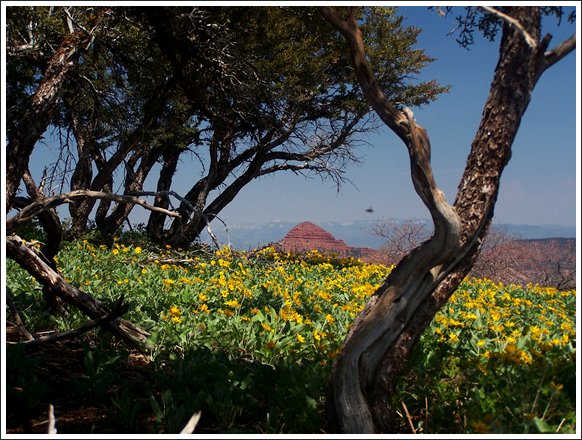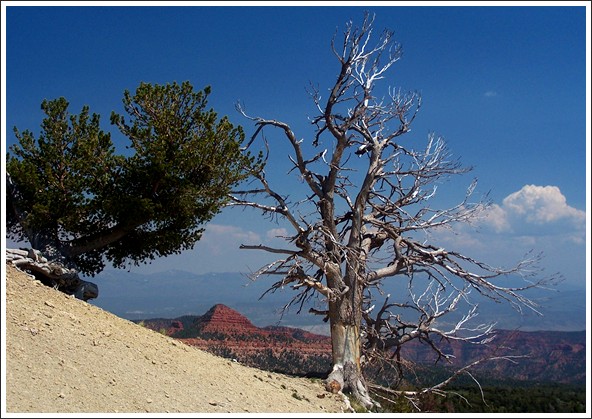 two different frames around Beehive Peak
Dayride

PARTIALLY PAVED / UNPAVED

( <FR150 - 290 Mary's Nipple | FR111 Joseph Peak(sh)> )
FR096 White Pine Mtn(sh) , FR102 Pavant Range(sh) : short distance up FR096, west of Richfield > up FR096 White Pine Road > FR096 White Pine Mtn(sh) > FR102 Pavant Range(sh) > down FR102 Willow Creek Canyon > US50 east > Aurora > Ut24 south > Richfield > back to starting point: 60.7 miles with 6140ft of climbing in 6:28hrs (VDO MC1.0 m5:13.6.3)