Alpine Loop Road Summit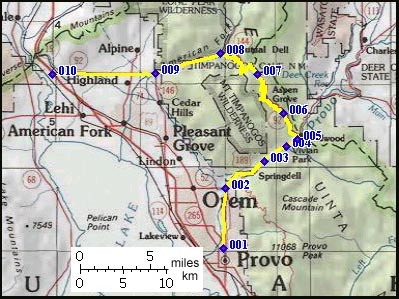 The Alpine Loop Road Summit just may be the best alpine paved climb in Utah. At least it was for me during a day in May, when the road was still closed to automobiles, but open to nonmotorized traffic.
The tight, narrow turns on the western side are something special for this continent, where highways usually cut across all obstacles like a knife. Instead this is a narrow thread of a road, winding itself up a shoulder of majestic Mount Timpanogos, and climbing to a hap at just about treeline. I don't know how heavy the summer traffic is, which would seriously detract from the cycling suitability. The pass is indicated as summit on some commercial maps. There is no summit sign.

01.(4600ft,mile00) START-END SOUTH: Provo, Brigham Young University area
02.(4840ft,mile05) entrance to Provo Canyon
03.(5120ft,mile08) Bridal Veil Falls area
04.(5200ft,mile11) Vivian Park
05.(5220ft,mile12) turnoff from Provo Canyon onto Alpine Loop road
06.(6080ft,mile14) Sundance ski area
07.(8030ft,mile20) TOP: Alpine Loop road summit
08.(6070ft,mile26) Alpine Loop road joins American Fork Canyon
09.(5070ft,mile31) START-END NORTH ALTERNATE: junction Ut146, Ut92 at mouth of American Fork Canyon
10.(4640ft,mile38) START-END NORTH: junction Ut92, I15
From South West. The approach from Provo starts with the best part of Provo Canyon, an excellent bike path far from traffic. After a short section on the shoulder Ut92 turns up to the Sundance Ski area. The place is worth a stop to view interesting photography centered around celebreties of cultural events at Sundance, naturally including Robert Redford.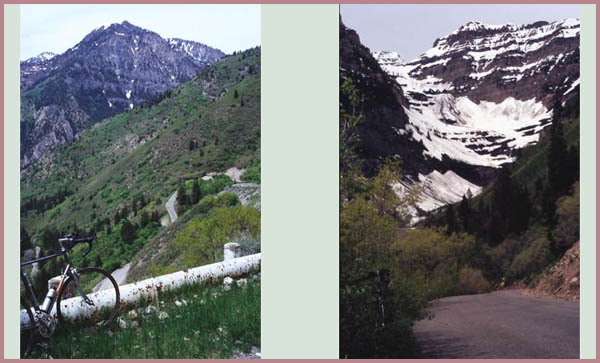 From South. A parking area at the summit gives the opportunity to study a map of the Wasatch Crest Trail which crosses here from Pole Line Pass on its way up the monumental Mount Timpanogos. The initial switch backs give the impression of being on a narrow mountain pass, somwhere in the alps. Following that, American Fork Canyon shows a deep, spectacular side, the likes of which only exist in northern Utah. The lower road is a much straighter and faster decent than the other side.

Other approaches. The Cascade Springs forest road offers another way to the summit from the east. It joins the southern approach almost at the top. It is paved at least from the Cascade Springs area. This is more of a conventionally engineered road with wide sweeping turns instead of the made-for-bicycle minuature road features of Ut92. From Cascade Springs a short cut dirt road leads directly into Midway, entering the town behind the golf course. One advantage of the Cascade Springs approach is that it bypasses the worst part of Provo Canyon, which is currently under construction (2006).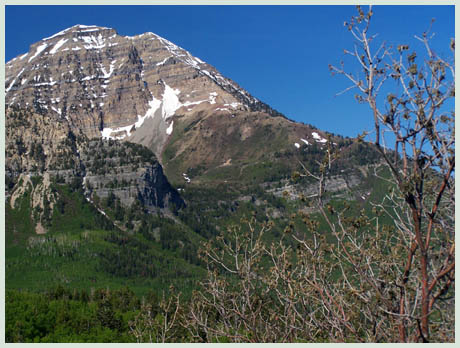 Mount Timpanogos from Alpine Loop Road Summit

Dayrides.

COMPLETELY PAVED:

(Paved): A circle ride from Provo over the summit, descening American Fork Canyon and returning to the starting point through Orem and Alpine, with a few small valley detours, measured 69 miles with 3988 feet climbing in 5.4 hours, using a Vetta 100A cycle computer.

PARTIALLY PAVED / UNPAVED:
A loop ride from Midway over Pole Line Pass, down American Fork Canyon to its junction with the Alpine Loop Road, then returning over this summit and the Cascade Springs road, also using the described shortcut to Midway, measured 65 miles with 7270 feet of climbing in 6.5 hours using a Cateye 100AT computer (m3:6.6.3)

A loop ride starting at the Alpine Summit to the TR157 summit: Ridge Trail, over Sandy Baker Pass to Pole Line Pass, down to Cascade Springs and back to the starting point via the Cascade Springs Road measured 31 miles with 5200ft of climbing over 5:1 hours, using a VDO MC1.0 cycle computer (m3:07.06.02). This also includes about 5 miles and 400ft of additional approach to the loop from the Salamander Flats area.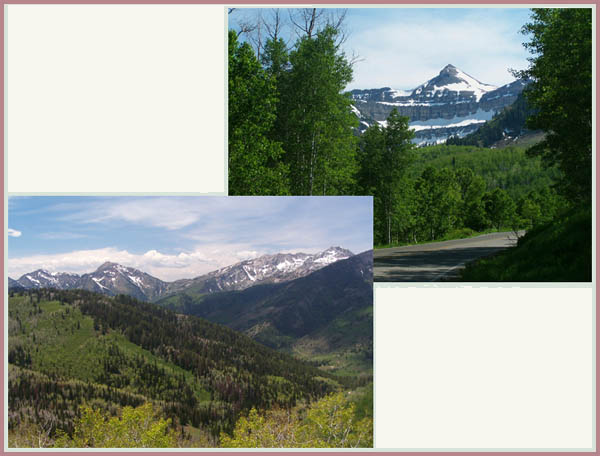 Cascade Springs Road approach to Alpine Loop Road Summit
Alpine Loop Road Summit (Summary)





Highest Point: 8030ft

Southern Approach:





from Provo (4600ft)

3430ft

20miles

from junction Provo Canyon, Alpine Loop Road (5220ft)

2810ft

9+1/2miles

Western Approach:





from junction Ut92 - I15 (4640ft)

3390ft

18+1/2miles

from junction Ut145 - Ut92, mouth of American Fork Canyon (5070ft)
2960ft
11miles

------


View ut_Alpine_Loop_Road_summit_u in a larger map

------