Oak Springs Summit

US93, heading north from the Las Vegas area is far from being the perfect bike route, due to moderately heavy and fast traffic, and rumble strips on the shoulders. Further north then, from Crystal Springs, there are two options to go further north, and the conditions on US93 improve greatly. The route also goes over two signed summits. One of them is only a shoulder point.


1.(00.0m,3840ft) START-END WEST: jct Nv318 - US93, Crsytal Springs
2.(18.8m,5000ft) Pahroc Summit
3.(22.1m,4820ft) intermediate low point at turnoff to Delamar landing field and Point of Rock Reservor in other side
4.(32.0m,6240ft)TOP; Oak Springs Summit
5.(42.3m,4390ft) START-END EAST: Caliente: jct NV317 - US93

Approaches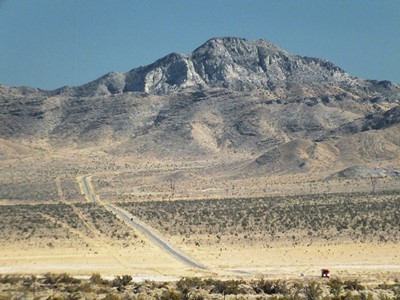 From West. A shallow climb with a singular noticeably and also signed curve leads up the sagebrush hills to a signed summit: Pahroc Summit. Blessed are those who think this is the highest point. The Nevada Gazeteer map, for example, labels this summit, but not the much higher Oak Springs summit, coming later on the profile.

Pahroc Summit is only a shoulder point (drop is less than 300ft). It leads into a wide gentle valley with an intimidating expanse. To the north it is called Delamar Valley, to the south Dry Lake Valley. A simple Nevada historical sign tells about the old gold town, a dozen or so miles to the south, from which the Delamar name is derived. This area of the road is occupied by groves of Joshua Trees. They make a great foreground for the next climb. It leads to the real summit on Oak Springs Pass. It exhibits a few attempts at mild curvature, near the top. Here trees make a grand appearance again in the form of a dwarf needle forest.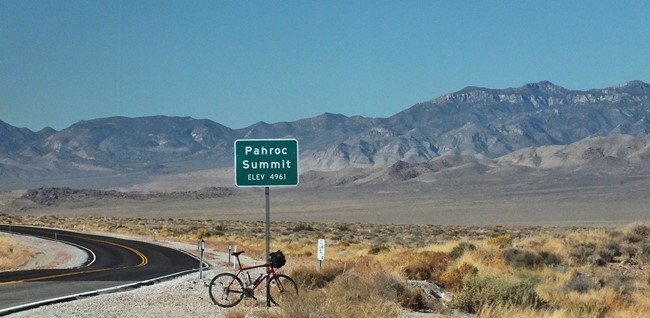 From East. (described downwards). This side does not share the stark dessert beauty of the west side. It is a high, forested, rolling plateau. The grade is perfect for a lightning fast descent into Caliente. There is a rumble stripped shoulder on much of the way on this side. The other side without shoulder or rumble strips is preferable to this, as far as cycling conditions are concerned





cLiCk on image , arrows , or thumbnails to advance slideshow


Dayride with this point as highest summit:

COMPLETELY PAVED:

( < Boulder City(sh) | Hancock Summit > )

Oak Springs Summit x2: jct US83 - Nv318, Crystal Springs <> US93 east <> Pahroc Pass(shp) <> Oak Springs Summit <> turnaround point ~2miles short of Caliente: 74.5miles with 5010ft of climbinh in 6:12hrs (garmin etrex30 r4:19.11.4)
Notes: perfect day except for a broken spoke