Meloy Summit

This is a small pass, south of Pioche, that is marked on the de Lorme Gazeteer as a dashed line, usually reserved for jeep trails or the like. In spite of this, the surface is better for cycling than dirt roads marked with through going lines.


1.(00.0m,5850ft) START-END EAST: low point on US93, coming from the south
2.(09.5m,6220ft) route turns onto Malory Rd
3.(13.0m,6800ft) TOP: Meloy Summit
4.(16.6m,6030ft) profile turns south in Cave Valley
5.(21.1m.6370ft) Unmarked BLM road Robinson Spring - Fence Spring s(u)
6.(25.2m,5760ft) route turns east at this jct
7.(28.8m,5460ft) START-END WEST: Bristol Wells site in Cave Valley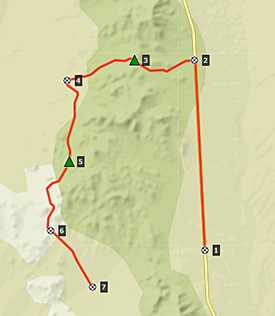 Approaches

From East. The profile starts at a low point on US93. A short distance north of the jct with the road to Mt Wilson, Mallory Rd turns off to the west. The sign along US93 though says nothing about the summit, but instead names a spring, which is not marked on my maps. It's a fast, easy and straight climb to the top. Approaching the top is a small, modern residential area hidden in the juniper dwarf forest.





From West. (described downwards). The ranges to the west of here have more interesting topographies and they first come into view soon after the summit: Schell Creek Range, the Egan Range, and others flow away to the west like waves whipped up by the wind. Approaching the valley, there are good bikable dirt tracks in all directions. None of the intersection are signed. But orientation with respect to the mountain ranges that always run north - south is not so difficult. There are also sometimes signs for the Nevada Silver State OHV trail. The profile follows these signs along the valley south, crossing another summit between areas approaching Robinson Spring and Fence Spring. A reference for the future and myself: From the map it appears that it is possible to go lower in a more direct fashion direction Big Mud Pass.


cLiCk on image , arrows , or thumbnails to advance slideshow


Dayride with this point as highest summit:

PARTIALLY PAVED / UNPAVED

( < Pioche s(u) | Patterson Pass > )

Meloy Summit , Unmarked BLM road Robinson Spring - Fence Spring s(u) : near Jct US93 - Mallory Rd > Mallory Rd west > Meloy Summit > unmarked BLM road south passing near Littlefield Spring > Robinson Spring > unmarked BLM Rd Robinson Spring - Fence Spring s(u) > Bristol Wells > Bristol Pass(shp) > US93 north back to starting point along Mallory Rd: 38.5milew with 2420ft of climbing in 3:37hrs (garmin etrex30 m3:19.11.8).
Notes: Bristol Pass is always a shoulder point. It doesn't have 500ft elevation gain on the east side, regardless of where you start.