Pioche s(u)

This high point is occupied by a historic old mining town, that still has plenty of signs of life, as well a great views into a sweeping valley. I'm told Pioche was a French miner and you don't pronounce it Peeothshy but Pee-Yosh. This came as a surprise to me, who first pronounced a small town in Colorado: Lyons, something like Lee-Yong.


1.(00.0m,4710ft) START-END SOUTH: jct NV319 - US93, west of Panaca
2.(00.9m,4750ft) turnoff to Cathedral Gulch State Park
3.(05.0m,5370ft) turnoff to Nv320 on left
4.(08.2m,5960ft) profile turns off onto NV321 into Pioche
5.(10.5m,6240ft) TOP
6.(11.9m,5860ft) profile crosses US93 onto Eagle Valley Rd
7.(15.5m,5440ft) START-END NORTH: local low point on Eagle Valley Rd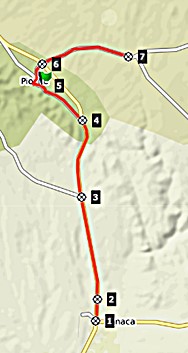 Approaches

From South. The profile starts at the jct of US93 and Nv319, just outside the rural town of Panaca. A bike trail leads from there to the entrance of Cathedral Gorge State Park, about a mile or two, from the road. After that the shoulder of US93 is rumble stripped, so that it is impossible to ride on it. This road/trail policy seems to say: Have a nice bike ride - but not more than 4 or 5 miles. After that you are on your own - in the middle of the road. In practice, traffic is not heavy. They generally seem to pass at full speed, that is 70 or 80 miles an hour, but hugging the opposite side of the road. So this only serves as one more example for this principle, so commonly found all over the world: Even if you don't agree with the collective policy (to put it mildly) there are still plenty of nice individuals to be found.

Back to the road. After a climb on the rumble road, at its summit a side road leads into Pioche. It traverses on what has now become a shallow but high ridge, with sweeping views onto Lake Valley, which I want to call a plain instead of a valley. At the summit the old mining town comes into sight like a life sized map. From here a foot trail leads along an old mining tramway to a town summit with a cross on top. The views from there are even better. A sign along the road tells that this tramway operated mostly by gravity. Descending full ore carts would be heavier than the ascending empty carts. What an ingenious system !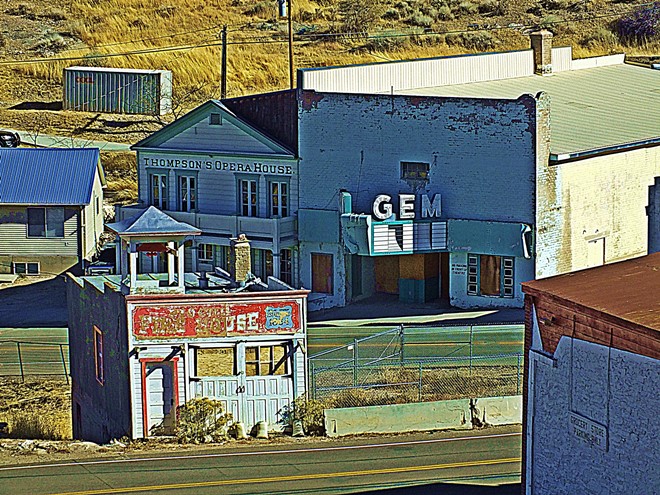 From East. (described downwards) Following the road into town a short section leads through an interesting main street. The gas station sells a few basic frozen burritos and other groceries at reasonable prices. I'm told the next grocery store in Panaca is actually more expensive. Two possibilities lead back to US93. The profile takes the direct one (staying right at the fork), then crosses 93 and continues along another pleasant paved road without traffic to speak of, to a low point in Lake Valley.





cLiCk on image , arrows , or thumbnails to advance slideshow


Dayride with this point as highest summit:

COMPLETELY PAVED:

( < Hancock Summit | Meloy Summit > )

Pioche s(u) , Nv322 Ursine Rd s(u) , additional out and back : a few miles south of Echo Dam Rd - Delmues Ranch Rd > Delmues Ranch Rd south > Nv319 west >. Panaca > US93 north <> out and back to points in Cathedral Gorge State Park >> Nv321 north > Pioche s(u) > city streets west with sightseeing detours > Nv322 Ursine Rd east > Ursine with detours > paved road following Eagle Valley (Echo Canyon Rd?) south > back to starting point along Delmues Ranch Rd: 61.8miles with 3240ft of climbing in 5:23hrs (garmin etrex30 m3:19.11.7)
Notes: contains several roads just paved in recent years, that are not shown on my map - perfect weather and everything else