Patterson Pass

Mountain pass roads in this part of Nevada generally do not have a huge elevation gain. But views reach so far in every conceivable direction in this bare and pristine landscape, so that the size of the landscape itself becomes the controlling factor of how "big" the pass feels. At the end of the day I am always surprised that the total climbing elevation was fairly small. Patterson Pass is actually one of the higher passes in the series of ranges running south of Nv316 (I cannot find a higher one, that is not a sandy jeep trail). It passes between structurally beautiful Mount Grafton (10080ft) and the lower northern end of the Schell Range.


1.(00.0m,5940ft) START-END EAST: jct US93 - Patterson Pass Rd
2.(05.1m,7400ft) TOP
3.(07.7m,6440ft) jct with North Cave Valley Rd
4.(08.9m,6240ft) profile turns south onto South Cave Valley rd
5.(24.4m,5980ft) START-END WEST: low point on South Cave Valley Rd before climbing up to Sidehill Pass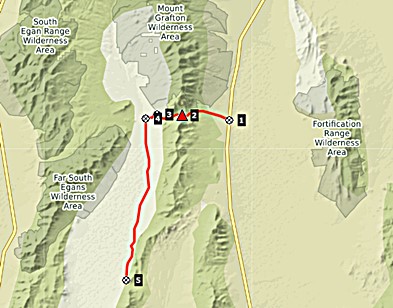 Approaches

From East. You can't miss the regular stratified outcrops on Mount Grafton, and you have plenty of time to gaze at them, while travelling on US93, heading south from the settlement called Pony Springs. A sign pointing to the Patterson Pass trailhead is the first serious attempt by a sign next to the road to communicate anything for at least the last 20 miles.


The profile starts at this dirt road turnoff, and continues in a fairly straight line up towards the pass. The last section before the pass contains a very steep section. The top is in a needle forest and tracks seem to leave from both sides of the road, making it tempting to climb either of these two wild looking peaks on foot. There is also a BLM sign naming the pass with elevation, a rarity in Nevada.






From West. (described downwards) The road continues in the same style of wide, industrial strength gravel road. Progress is fast, and there is really no washboard surface. At the bottom the cliffs of Mount Grafton come into even better perspective. Here is a prominent, well signed intersection, another Nevada rarity. Signed destinations include Shingle Pass, Sidehill Pass (always a shoulder point), and other points in the wild and varied Cave Valley. The mountains limiting the west side of the valley have a completely different appearance from Mount Grafton.





cLiCk on image , arrows , or thumbnails to advance slideshow


Dayride with this point as highest summit:

PARTIALLY UNPAVED / PAVED

( < Meloy Summit | Wheeler Peak Scenic Dr(ow) > )

Patterson Pass , Kixmiller Summit : Patterson Pass Trailhead > Patterson Pass Rd west > Patterson Pass > South Cave Valley Rd south > Sidehill Summit(shp) > Kixmiller Summit > US93 north > back to starting point at Patterson Pass Trailhead: 56.6miles with 2710ft of climbing in 5:05hrs (garmin etrex30 m3:19.11.9)
Notes: the only sign of life, that I encountered on the unpaved section starting at the trailhead was birds and two wild horses galloping across the road at full speed.