Carroll Summit

When you want to get away from traffic, it is often pretty easy to find a dirt road to do this. But to find a paved road over a picturesque, named summit with virtually no cars at all, that is much more difficult. I found one. NM722 parallels US50 (roughly speaking), east of Austin. Signs warn of minimal maintenance, which further keeps away cars. I had no problems with the maintenance, and a great time with the scenery. The major attraction is the feeling of isolation in this area.


1.(4760ft,mile00.0)START-END WEST: jct US50 - Nv722
2.(5380ft,mile08.0)jct with Buffalo Creek Rd on left
3.(7425ft,mile17.0)TOP: Carroll Pass
4.(6350ft,mile22.5)START-END EAST: jct Nv722 - Ranch access Rd


Approaches
From West. Nv722 reaches a low point at Eastgate, a place prominently labeled on the map. But don't expect to find a place to refill water bottles. Instead an attractive, old abandoned looking house stands at the entrance of a dry canyon, and a historical marker talks about camping spots and watering holes.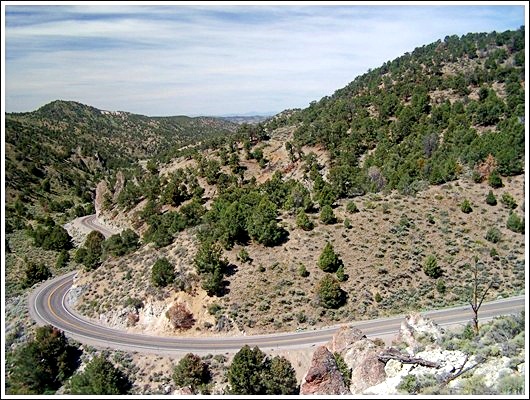 the last curves before reaching the summit
On the other side of the gate , the scenery is not much different. The canyon soon spreads out into a valley, and trees are still something to be seen closer to the horizon. But the steadily climbing road eventually does make its way into a low canyon in the southern end of the Desatoya Mountains, with evergreen trees, parched soil and flowing green hills. Approaching the top are a few very picturesque switchbacks, where the dessert now plays a background role, and a green triangular pyramid shaped mountain shows the way down the other side.

From East: (described downwards) Sagebrush hills give way to a view onto a Salt Sea when the road enters Smith Creek Valley. Before rejoining today's US50 the road still has to cross another "pass", a barely noticable slope over a straight road called Railroad Pass.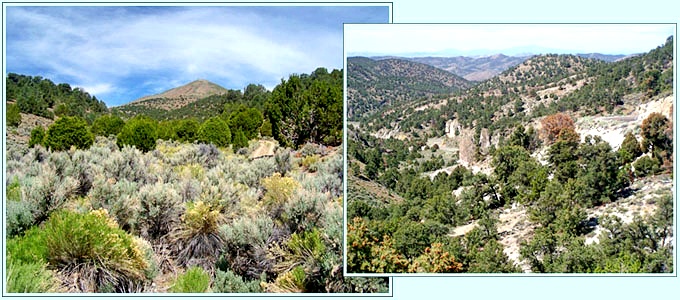 sagebrush and Juniper forest scenery of Carroll Summit

History

Modern Highways: Carroll Pass was the old historic US50 for some time. The route of US50, the Lincoln Highway, changed several times. First it followed a route that was selected for horse travel, the Old Overland Route over Basque Summit, through a much more verdant scenery than this route. Later US50 followed closer to today's route over New Pass. In 1924/25 US50 was rerouted over Carroll Pass, in an effort to shorten the route by 15 miles. Beginning in the 1930s efforts were made to change the route back to the original Railroad Pass, a longer, less scenic option, but with lower and straighter approaches.

A dayride with this point as intermediate summit is on page: Basque Summit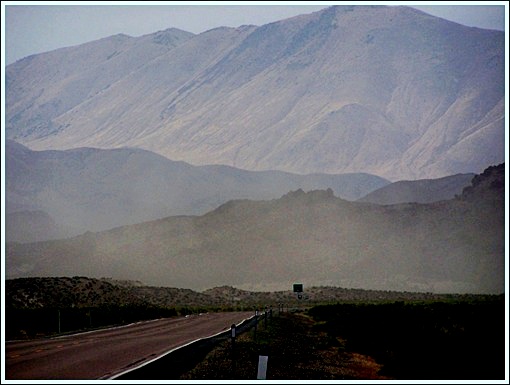 duststorm near Eastgate: jct US50-Nv722, the start of the profile on the west side