Targhee Pass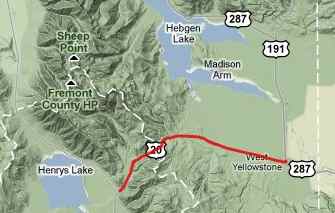 Nearby Raynold's Pass was first named "Low Pass". There are a number of passes on the southern part of the Idaho Montana border that deserve this name, but maybe none more so than Targhee Pass. The road carries heavy tourist traffic to Yellowstone Park. It has a good shoulder on the Idaho side, but the shoulder is rumble stripped on the Montana side, making this a potentially dangerous route for bicycles during Yellowstone travel season.

1.(2030m~6660ft, 0km~0mi) START-END WEST: jct US20 - Mo87, north of Island Park, south of Henry's Lake
2.(2156m~7072ft, 6.4km~4.0mi) TOP: Targhee Pass
3.(2033m~6670ft, 9.8km~6.1mi) Denny Creek Road diverts on left
4.(2008m~6588ft, 12.0km~7.5mi) low point
5.(2033m~6670ft, 21.4km~13.3mi) START-END EAST: West Yellowstone, US20 turns north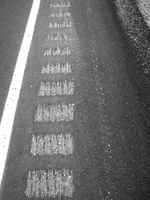 Approaches
From North. It's a quick 200ft ride to the top. As the short ascent begins Targhee Peak at 10180ft enters the picture for a few hundred yards. There are no pass or elevation signs at the top, but the name shows up on practically all state maps.

From South. The shoulder disappears and the heavy traffic remains as the road aims in a utilitarian straight route to the town of West Yellowstone.

Tours
Dayrides.

jct Targhee Trail forest road - US20 > Targhee Pass > West Yellowstone > US287 nort and west > Hebgen Dam > Raynolds Pass > back to starting point (including between 5 and 10 miles of slow detours near West Yellowstone): 75 miles with 2500ft of climbing in 5:3 hours.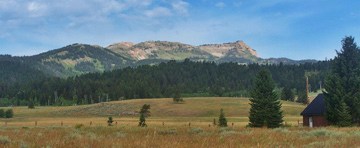 History

The fur trade. The Indian trail that ran over this pass from Snake River country to the Gallatin Valley became known to trappers with the discovery of nearby Raynold's Pass by Andrew Henry in 1810. When they referred to crossing North Pass it could mean either going across Targhee or Raynold's Pass.

Exploration by military and surveyors. The ambiguous designation of "North Pass" is a good example of why more formal methods of exploration were needed. These formal methods came in the name of Ferdinand Hayden and the comprehensive Hayden Survey. In 1872 he mapped the Yellowstone area in great detail, including the North Pass region which still retained this name. Hayden applied the name Targhee Pass to this crossing, after Chief Targhee of the Banocks who died in the early 1870. Hayden's surveyors recommended the pass for a railroad from Salt Lake City to Yellowstone Park. However the rail connection to Yellowstone that would become reality lead over nearby Reas Pass.
Chief Joseph and the Nez Perce. The government had designated a forever-homeland for the Nez Perce Indians in Wallowa Valley, eastern Oregon in 1855. However, forever is a strong term, and sometimes (or maybe always) forever doesn't mean forever. When Chief Joseph refused to move his band into Idaho the government responded with force in 1877. The resulting flight and ensuing battles moved across today's Montana into Yellowstone. Today numerous road signs in the area remind of the flight of 700 people. Amongst the areas crossed is also Targhee Pass. After the battle at today's Big Hole Battlefield the band crossed Medicine Lodge Pass and then approached Targhee Pass via Centennial Valley. Their route continued into Yellowstone Park heading towards today's Dead Indian Pass.