Hyalite Canyon(ow)

This is a good way to escape the normal run-of-the-mill Montana roads, which are often shoulderless or rumble-stripped roads - and still stay on pavement for a while. The climb is gentle and the scenery relaxing. At the end a bikable trail leads to a waterfall, perfect for rest, relaxation and meditation, or go further on a trail.


1.START-END NORTH:jct west College St - 19th St. Bozeman
2.start of Hyalite Cny Rd
3.Hyalite Reservoir
4.end of road, start of wide trai
5.TOP: 7150ft: Grotto Falls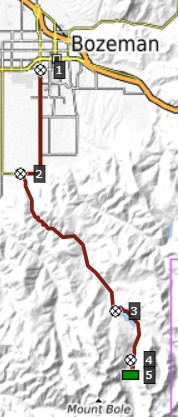 Approaches

From North. Like many forest road turnoffs, the one up Hyalite Canyon is well camouflaged. Even though this is one of the main access points from Bozeman into the Gallatin Range you don't see the sign until you are nearly stepping on it.

A gentle forested climb leads to a reservoir with a nice mountain backdrop. From here on the road is unpaved, although current construction may extend the pavement further. There are two out-and-back options to choose from. This one is the higher of the two. It goes right and ends at a busy parking lot. From here a wide easy trail, open to bicycle leads 1.3 miles further to a little inconspicuous waterfall. I think a gravel bike would do fine on this surface.

With a mountain bike it is theoretically possible and legal to continue on the single track path all the way to the top of the Gallatin Crest trail. Currently this section is even open to motor bikes - I met only one of them. But there is talk of making this into a wilderness ares, and then access would be closed to bikes, propelled by motors or legs. I walked this on a separate day.

Dayride with this one-way summit as highest point, and no two-way summits


PARTIALLY PAVED / UMPAVED
( <
Flathead Pass
|
Targhee Pass
> )
Hyalite Canyon(ow) :
~a mile up dirt road towards Moser Jumpoff from jct Hyalite Cny Rd - down Moser Jumpoff Rd > down Hyalite Cny Rd <> out and back to Bozeman with many miles of sightseeing detours >> <> out and back up Hyalite Cny Rd > Hyalite Reservoir << turnaround point end of trail at Grotto Falls >> back to starting point on Moser Jumpoff Rd : 58.4miles with 3510ft of climbing in 5:18hrs (garmin etrex30 m3:20.8.25)
Notes: pleasantly cool and cloudy day after smoky heatwave from hell