Green Canyon Pass

If West Yellowstone is a Yellowstone National Park city, Island Park are the National Park suburbs. An array of unpaved roads thread together large retirement homes, growing between the farmlands and sage. On the west side are the Pioneer Mountains, running contrary to the general geological rule of the west. They run in an east west direction. The GDMBR route is on the other side of the Centennial Mtns, where the fault line is much steeper. Green Canyon Pass starts in Island Park and then climbs through a small forested hill, south of the valley. The name is not used on any signs in the area. It is used in the deLorme Gazeteer maps.


1.START-END NORTH:low point on Green Canyon Rd, north of Old Shotgun Valley Rd
2.TOP, 6920ft, Green Canyon Pass
3.START-END SOUTH: jct Green Canyon Rd - US20

Approaches

From North. There actually is a road sign on Old Shotgun Valley Rd. Not only does it point the way along a tourist route over this little pass, "the Green Canyon Trail", it even displays a little map.

The Green Canyon Rd heading south, reaches a low point and the profile starts there. Soon it's goodbye views, hello trees. Only at the summit can you catch a glimpse through the trees of the reservoir below and the great breadloafs of the Pioneer Mtns

From South. A single clearing shows a forested plain ahead to the south. This could be Minnesota at 6000ft, but it is not. The road merges onto busy US20, much of which would be a nightmare on a bicycle. But, accepting much slower progress, its possible to ride snowmobile and ATV trails on its side.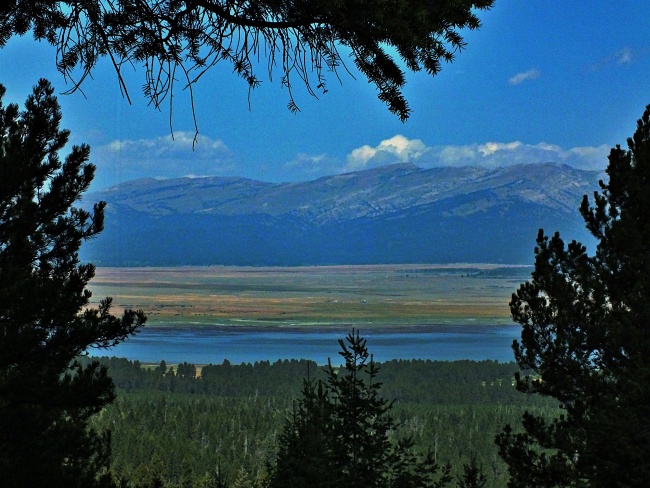 Dayride with this point as highest summit:


PARTIALLY PAVED / UNPAVED
( <
Targhee Pass
|
Sawtell Peak Rd(ow)
> )
Green Canyon Rd s(u):
Stamp Meadow Rd, 1.3 miles from jct Yale - Kilgore Rd-Stamp Meadow Rd > Stamp Meadow Rd south > Old Shotgun Rd west > Green Canyon Rd south > Green Canyon Pass > Green Canyon Rd east > snowmobile trails paralelling US20 north > old Id191 north > Island Park Res with detours > Philips Loop Rd north > Yale - Kilgotr Rd west > back to starting point on Stamp Meadow Rd: 47.4miles with 1780ft of climbing in 4:17hrs (garmin etrex30 m3:20.8.30)
Notes: US20 to complete the loop is another rumble strip terror highway, full of vacation depraved Yellowstone maniacs, making this road worse than any potential Long Island expressway experience. Luckily it can be avoided with snowmobile trails and other rough roads. It makes sense that the GDMBR was conceived in an area where so many paved roads are not really bikable (neighboring state though) First ride with good temperatures since June.