Lolo Pass

This is a long shallow traverse through the forest. Except for a view of Lolo Peak near the start of the western side there is little evidence of relatvively high mountains the road is traversing.


1.START-END EAST:jct US93-US12, Lolo
2.TOP, Lolo Pass, 5233ft
3.START-END WEST: Lowell, confluence of Lochsa and Clearwater Rivers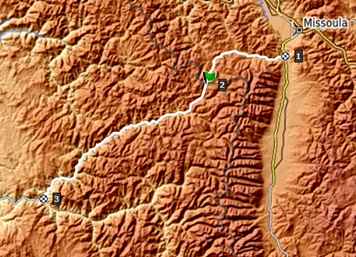 Approaches

From East. Leaving Lolo the road is paralleled by a bike path. But this does not last long and after that all you can expect is no shoulder and a yellow "share the road with bicycles sign". The climb is ever so shallow and passes an interesting historical display of signs at Fort Fizzle, pertaining to the Chief Joseph of the Nez Perce story and also Lewis and Clarke, who also passed through here in both directions. Following that is a fair view of Lolo Peak from more that 5000ft below.

Past that, the road goes through a generic shallow forrested ravine, without even the hint of a view. The same goes for the summit. But there is a gigantic parking lot and visitor center, with relatively little useful information

From South. Shoulder size and conditions improve as you exit Montana - as expected.

cLiCk on image , arrows , or thumbnails to advance slideshow
A Dayride with this point as intermedate summit is on page:
Brushy Fork - Spruce Creek Divide
HIstory
Lewis and Clarke
( < Lost Trail Pass | Gibbons Pass > ) The name "Traveler's Rest state park" at the Lolo Pass turnoff from US93 does not refer to today's Highway Vacationer. Instead the spot was named by Lewis and Clarke on their westward journey in September of 1806. It was during a reconnaissance trip into the wide valley of today's Missoula, that they learned from friendly Flathead Indians, that several easy passes would have been available to them to there across the continental divide, all following forks of the Clark Fork.
But that was all in the past now. Heading west they decided to follow another not so commonly used Indian Trail over Lolo Pass.
Chief Joseph and the Nez Perce:
( <
Old White BIrd Hill s(u)
|
Gibbons Pass
> ). The old Indian trail was crossed by Chief Joseph and his band after the initial fights near White Pine Canyon. The tribe with household goods and 1500 Apaloosa horses crossed the brushy Clearwater mountains to Lolo Pass. On the east side captain Charles C Rawn built a barricade, sure to stop them, so he thought. The chief lead his 700 people (including ancients and infants) over a ruggedn short cut north into the Bitterroot Valley. The fight "fizzled", and Fort Fizzle is marked with signs and a memorial area these days.