Sawtell Peak Rd(ow)

I have seen this microwave-reception dish on top of a mountain several times from below. Looking up from US20, it really does not look like a very impressive climb. But then Mt Ventoux does not cut a great view from below either, and it is a cycling legend, with enormous far reaching views. As far as Sawtell Peak is concerned - it looks more appealing from Shotgun Valley to the south, than from the closest access point on the GDMBR. After having cycled it, to me personally - it is a kind of Northern Rockies gravel version of Mt Ventoux - sort of - kind of - in a stretched sort of way. But 3000ft climbs on a bicycle are rare in this area. Where this comparison brakes down is - the people that travel up here are almost entirely ATV drivers, disguised as ninja turtles ... and the occasional couple in a car, celebrating their 53rd wedding anniversary.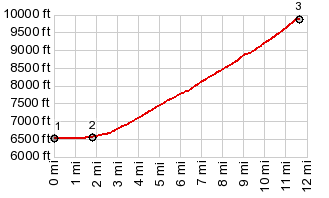 1.START-END EAST:jct US20 - Sawtell Peak Rd
2.jct Sawtell Peak Rd - Stamp Meadows Rd
3.TOP: Sawtell Peak, 9880ft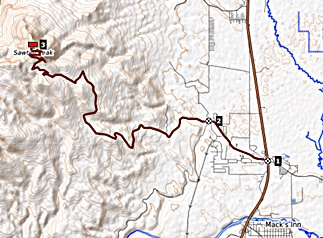 Approaches

From East. At the jct with US20, several large parking lot - businesses are pedaling their wares to Yellowstone tourists. But most of them just zoom by on a shoulderless racetrack.

This is where the profile starts, and also where the GDMBR comes down potholly old Hiway 191. Sawtell Peak does not look like much from this vantage point. A regular long wedge, mostly tree covered, except for that singular big cliff around the top, on which sits a radio facility.

The climb starts gentle, paved and stays in the trees. Turning to dirt at the jct with Stamp Meadow Rd ( an alternate approach from the Island Park area), and getting a little steeper, after a nice little workout a radio tower appears. Can this be the top already. Of course not, the real climb hasn't even started yet. The next view of the radio facility on top is still framed by a road cut. It becomes clear that the view and size of the telelescope at the summit has hardly changed - the first hint that this may take a little longer than originally planned.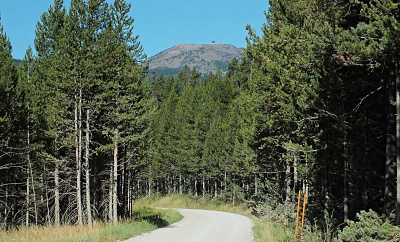 The interesting part of this road starts past the Sawtell Peak trailhead. This trail climbs the rocky peak, that is visible from the top. The road now too goes above treeline, flanked by impressive groves of deadwood. Not until the very last section does the viewshed also include the west and north sides, that is Sawtell Peak itself and Hebgen Lake. Behind it, one of the gentlest of all CD crossings over Raynolds Pass, can be seen from this, one of the highest climbs in the Northern Rockies. The Tetons form a flat silhouette to the north, - and below.

The bicycle can go just a few feet higher than the road itself, to a highpoint with a 270 degree view. It would be 360 but the radio telescope is in the way for 90 degrees. It really is as large as suspected from below.

cLiCk on image , arrows , or thumbnails to advance slideshow
Dayride with this one way point as highest summit
(and no two way summits)
PARTIALLY PAVED / UNPAVED
( <
Green Canyon Pass
|
Monida Pass
> )
Sawtell Peak Rd(ow) :
Stamp Meadow Rd, 1.3 miles from jct with Yale - Kilgore Rd > Stamp Meadow Rd north <> out and back to the top of Sawtell Peak Rd(ow) >> <> separated out and back down Sawtell Peak Rd > US20 > Old Hiway191 north with turnaround point just before jct with Red Rock Rd : 45.3miles with 4400ft of climbingin 5:24hrs (garmin etrex30 m3:20.9.2)
Notes: perfect temperature, perfect weather, perfect light, perfect ride. On top I had a great conversation with the Barkers from Idaho Falls, celebrating their 53rd wedding anniversary today. I did see one other cyclist at the jct with Stamp Meadow Rd, Kurt from Park City, who agreed with me on the lamentable state of road cycling in rumble stripped Montana.