Horseheaven Pass

This grassland pass extends along the lowest slopes on the backside of Mt Borah, and is a beautful way to experience the Lost River Range. There is no traffic, and the remoteness disguises its natural beauty to potential tourists.


1.START-END EAST-1:jct Doublesprings Rd - FR118, west of Goldburg
2.jct Donkey Hills Rd - Doublesprings Rd
3.profile turns left onot FR117
4.TOP,7960ft: Horseheaven Pass
5,profile turns left following unmarked road along Mahagony Creek and after that Pahsimeroi River
6.profile turns left onto Donkey Hills Rd
7.START-END EAST-2: low point, just before reaching point 2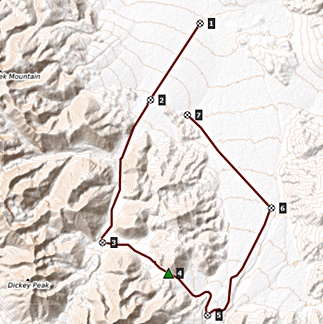 Approaches

From West. The profile starts with the route up Doublespring Pass. The surface of the road is mostly smooth on the lower stretch and then becomes a hard, moderately bumpy rock matrix on the way up. The road runs along the middle of a wide sage covered valley floor with rocks rising to grass covered slopes in both directions. The turnoff to Horseheaven Pass is well signed. The road now turns into a fairly fast jeep trail with few rocks. It runs through a gigantic grass bowl with a few small bodies of water appearing on or near the road. The backside of Mt Borah and other high peaks surrounding it looks more benign from this side, but still rugged enough to invite the eyes to try to find a way up between the cliffs. The top of the pass is not signed and the locaton is not entirely clear, until looking at the profile afterwards.

From East. For the most scenically exciting ride you would just follow this jeep trail along the Lost River Range. But the surface becomes a lot rougher. But in order to go down this side of the vast alluvial fan, the profile picks a fast route following the north side of the Pahsimeroy River. Another earlier track heading for the valley floor is also a possibility. They both meet eventually. As the straight fast dessert track descends gently, the Lost River Range becomes like a set sawblade teeth, delimiting the plain in the distance. At the end of this track, it crosses an electrified cow gate, and then follows a smoothly surfaced Donkey Hills Rd north to meet back with the the western approach described above. It reaches a low point a mile or two before reaching Doublespring Rd, and the profile ends at that point.
cLiCk on image , arrows , or thumbnails to advance slideshow
A Dayride with this point as intermediate summit is on page:
Doublespring Pass
(t20_11)