Beaver Creek Summit

The Sawtooth Mountains are a weekend getaway destination for Boise residents. But it is not a quick weekend commute. Id21 encounters a total of 4 separate summits on its route to the mountains. Beaver Creek summit is the slightly lower one of the Beaver Creek / Mores Creek double summit. But I think the more interesting scenery is on the Beaver Creek side. The profile contains an additional lower portion, that is not part of the Boise - Sawtooth Mtns weekend commute (first part of the northern approach), and this canyon route is actually the most interesting part of the ride.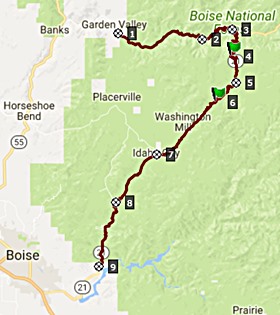 Approaches

From North. The profile and pictures include the section of road following the Payette River between Garden City and Lowman. Here the road climbs an impressive height above the canyon of the Payette and descends back down to it. It really feels like a summit in its own right. But in the meantime the rapids of the Payette below have also climbed considerably, and checking the elevation profile, there is actually less than 500ft gain back down to Lowman. You could also think of this stretch as the lower approach to Banner Summit.

Lowman just has a gas station without a water connection and an expensive restaurant. The road climbs in fairly tight turns through the forest. After a good workout it, doubles back onto itself and then breaks out of the forest in a long straight away for an expansive view of the forested hills. - The intermittent climbing continues and the switchback view scenario repeats itself a second time, one step higher in the landscape. The top itself is a dirt parking lot for snowmobilers with an elevation sign.

From South. A short pleasant forest ride leads to a low point between Beaver Creek Summit and Mores Creek Summit.

A Dayride with this point as intermediate summit is on page: Mores Creek Summit

cLiCk on image , arrows , or thumbnails to advance slideshow