Banner Summit

The official Montana and Idaho state maps with the states' major highways contain many designated summit points. Many of these are wide, gentle water divides. These summits are located either at nondescript points in the forest or in a spread out mountain park with peaks somewhere on the horizon. This is one of the former. It makes a great workout, and on the west side there is not much there that could persuade you to stop. The profile continues all the way around the Sawtooth Range, over something called Blind Pass and down the other side to the Salmon River. All the interesting and amazing places - in my opinion - except one, are on this gentle decline on the right side of the profile below..


1.(000.0m,3800ft)START-END SOUTH:bridge over South Fork of Payette River in Lowman
2.(033.4m,7056ft)TOP: Banner Summit
3.(037.3m,6700ft)jct with Bear Valley Rd to Cape Horn Summit on left
4.(058.8m,6270ft)profile turns left down Salmon River Rd, immediately past Stanley
5.(113.7m,5020ft)START-END NORTH: jct US93-Salmon River Rd, several miles south of Challis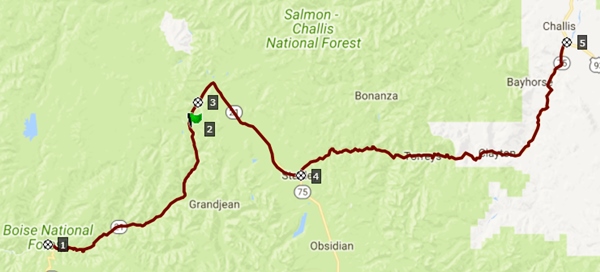 Approaches

From West. This side an be quite a workout on a hot summer afternoon. There is very little to take your mind off the workout except for one view point, where every scenery starved tourist just has to stop and take the identical picture (including myself - it's the picture with the other tourists below)

But we'll start back in Lowman. A highway leads through the forest, following the South Fork of the Payette River. The road bed has been cleared wide enough, so that between 12 am and 4 pm in the summer, there is not an inch of shade on the road, in spite of the fact that there is no shortage of trees. After many miles the Sourdough Lodge has an opportunity to refill water bottles and even increase the tire pressure with an air hose.

Many miles later an actual noticeable slope begins. A short distance up the climb is a pullout with the aforementioned singular view on this side - a few peaks of the Sawtooth Range appear through an opening in the forest. A historical tablet extolls on the virtues of a forest ranger from Denmark, who became the first ranger in this area, due to his European forestry education. I met two interesting travelers resting at this spot.

The climb continues without turns that would cause any traffic to slow down the slightest bit - the countless nearby trees, just not nearby enough to give shade. The summit offers a diversion. A sign announces that the name of the National Forest changes from Challis to Boise. A designated "rest area" consists of a parking lot where people, pulling there speed boats stop to check their bungy cords, to ensure that the boat will not fall off at 65 miles per hour. There is a homemade looking summit sign with the elevation labeled as 7200ft - a large margin of error - "maybe a leftover from when these elevations were still measured by triangulating stars" - I thought. The heat was getting to me.

From East. (described downwards) A gentle descent leads ~460ft lower around the north end of the Sawtooth Range. Here one can follow one of two creeks up stream on unpaved roads. The paved road does this for only ~200ft to something called Blind Summit. This elevation is signed with exactness as 6713ft.

By now you may have given up on this summit. But a few miles later the first views of the Sawtooth Range appear. - Very aptly named, but I called it the Sawblade Range many times by mistake. Maybe that describes the ragged rocky outline in snow even better. The road cuts through the scenery like a wide black ribbon. But now there are views to thrill the eyes for many miles. This type of scenery lasts to Haley. The profile continues through this town and follows the Salmon River all the way downstream Challis.

A Dayride with this point as highest summit:

COMPLETELY PAVED:

( < Galena Old Toll Rd Summit | FR487 Squaw Creek Rd - Seven Devils Rd(sh) > )

Banner Summit x2 : campsite near jct Elk Meadows Rd - Id21 north and then south around north end of Sawtooth Range <> Banner Summit <> turnaround point on Id21 about a mile past the Sourdough Lodge: 80.0miles with 4270ft of climbing in 6:22hrs (garmin etrex30: 17.6.30)
Notes: at mentioned viewpoint on west side I had an extended conversation with a proud new owner of a converted Mercedes Van camping mobile and a cross country cyclist en route from Carolina to California. Otherwise a soft-leak-slow-tire ride with a cool morning and hot afternoon.

cLiCk on image , arrows , or thumbnails to advance slideshow